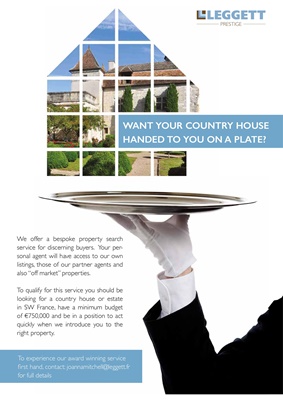 We offer a bespoke property search
service for discerning buyers. Your personal agent will
have access to our own
listings, those of our partner agents and
also "off market" properties.
To qualify for this service you should be
looking for a country house or estate
in SW France, have a minimum budget
of €750,000 and be in a position to act
quickly when we introduce you to the
right property.
LEGGETTPRESTIGE
WANT YOUR COUNTRY HOUSE
HANDED TO YOU ON A PLATE?
To experience our award winning service
first hand, contact: joannamitchell@leggett.frttp://leggett.fr" target="_blank" title="Visit leggett.fr">leggett.fr
for full details