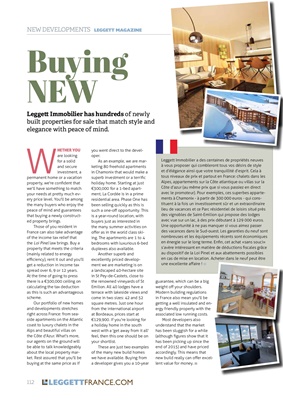 Leggett Immobilier has hundreds of newly
built properties for sale that match style and
elegance with peace of mind.
Leggett Immobilier a des centaines de propriétés neuves
à vous proposer qui combleront tous vos désirs de style
et d'élégance ainsi que votre tranquillité d'esprit. Cela à
tous niveaux de prix et partout en France : chalets dans les
Alpes, appartements sur la Côte atlantique ou villas sur la
Côte d'azur (au même prix que si vous passiez en direct
avec le promoteur). Pour exemples, ces superbes appartements à Chamonix - à partir de 300  000 euros
- qui constituent à la fois
un investissement sûr et un extraordinaire
lieu de vacances et ce Parc résidentiel de loisirs situé près
des vignobles de Saint-Emilion qui propose des lodges
avec vue sur un lac, à des prix débutant à 129  000 euros.
Une opportunité à ne pas manquer si vous aimez passer
des vacances dans le Sud-ouest. Les garanties du neuf sont
nombreuses et les équipements récents sont économiques
en énergie sur le long terme. Enfin, cet achat « sans souci »
s'avère intéressant en matière de déductions fiscales grâce
au dispositif de la Loi Pinel et aux abattements possibles
en cas de mise en location. Acheter dans le neuf peut être
une excellente affaire  !
112
NEW DEVELOPMENTS LEGGETT MAGAZINE
W
HETHER YOU
are looking
for a solid
and secure
investment, a
permanent home or a vacation
property, we're confident that
we'll have something to match
your needs at pretty much every price
level. You'll be among
the many buyers who enjoy the
peace of mind and guarantees
that buying a newly constructed property
brings.
Those of you resident in
France can also take advantage
of the income tax relief that
the Loi Pinel law brings. Buy a
property that meets the criteria
(mainly related to energy
efficiency), rent it out and you'll
get a reduction in income tax
spread over 6, 9 or 12 years.
At the time of going to press
there is a €300,000 ceiling on
calculating the tax deduction
as this is such an advantageous
scheme.
Our portfolio of new homes
and developments stretches
right across France: from seaside apartments on the Atlantic
coast to luxury chalets in the
Alps and beautiful villas on
the Côte d'Azur. What's more,
our agents on the ground will
be able to talk knowledgeably
about the local property market.
Rest assured that you'll be
buying at the same price as if
you went direct to the developer.
As an example, we are marketing
80 freehold apartments
in Chamonix that would make a
superb investment or a terrific
holiday home. Starting at just
€300,000 for a 1-bed apartment, La Cordée
is in a prime
residential area. Phase One has
been selling quickly as this is
such a one-off opportunity. This
is a year-round location, with
buyers just as interested in
the many summer activities on
offer as in the world class skiing.
The apartments are 1 to 4
bedrooms with luxurious 6-bed
duplexes also available.
Another superb and
excellently priced development we
are marketing is on
a landscaped 40-hectare site
in St Pey-de-Castets, close to
the renowned vineyards of St
Emilion. All 40 lodges have a
terrace with lakeside views and
come in two sizes: 42 and 52
square metres. Just one hour
from the international airport
at Bordeaux, prices start at
€129,900. If you're looking for
a holiday home in the south
west with a 'get away from it all'
feel, then this one should be on
your shortlist.
These are just two examples
of the many new build homes
we have available. Buying from
a developer gives you a 10-year
guarantee, which can be a big
weight off your shoulders.
Modern building regulations
in France also mean you'll be
getting a well insulated and energy
friendly property with the
associated low running costs.
Most developers also
understand that the market
has been sluggish for a while
(although figures show that it
has been picking up since the
end of 2015) and have priced
accordingly. This means that
new build really can offer excellent value for
money.
Buying
NEW