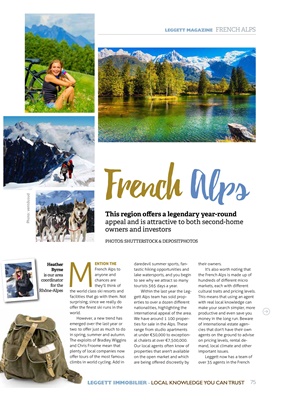 75
LEGGETT IMMOBILIER - LOCAL KNOWLEDGE YOU CAN TRUST
LEGGETT MAGAZINE FRENCH ALPS
M
ENTION THE
French Alps to
anyone and
chances are
they'll think of
the world class ski resorts and
facilities that go with them. Not
surprising, since we really do
offer the finest ski runs in the
world.
However, a new trend has
emerged over the last year or
two: to offer just as much to do
in spring, summer and autumn.
The exploits of Bradley Wiggins
and Chris Froome mean that
plenty of local companies now
offer tours of the most famous
climbs in world cycling. Add in
daredevil summer sports, fantastic hiking opportunities and
lake watersports, and you begin
to see why we attract so many
tourists 365 days a year.
Within the last year the Leggett
Alps team has sold properties to over
a dozen different
nationalities, highlighting the
international appeal of the area.
We have around 1 100 properties for
sale in the Alps. These
range from studio apartments
at under €50,000 to exceptional chalets at over
€7,500,000.
Our local agents often know of
properties that aren't available
on the open market and which
are being offered discreetly by
This region offers a legendary year-round
appeal and is attractive to both second-home
owners and investors
their owners.
It's also worth noting that
the French Alps is made up of
hundreds of different micro
markets, each with different
cultural traits and pricing levels.
This means that using an agent
with real local knowledge can
make your search simpler, more
productive and even save you
money in the long run. Beware
of international estate agencies that don't have
their own
agents on the ground to advise
on pricing levels, rental demand, local climate and other
important issues.
Leggett now has a team of
over 35 agents in the French
French Alps
PHOTOS: SHUTTERSTOCK & DEPOSITPHOTOS
Heather
Byrne
is our area
coordinator
for the
Rhône-Alpes
Photo: ventdusud