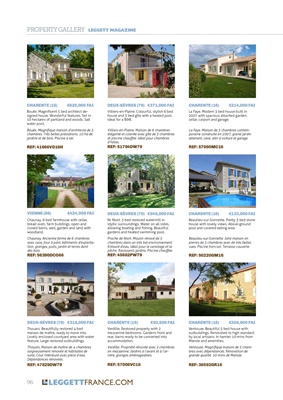 96
PROPERTY GALLERY LEGGETT MAGAZINE
CHARENTE (16) €625,000 FAI
Bouëx. Magnificent 5 bed architect designed house.
Wonderful features. Set in
10 hectares of parkland and woods. Salt
water pool.
Bouëx. Magnifique maison d'architecte de 5
chambres. Très belles prestations. 10 ha de
jardins et de bois. Piscine à sel.
REF: 41666VD16H
DEUX-SÈVRES (79) €371,000 FAI
Villiers-en-Plaine. Colourful, stylish 6 bed
house and 3 bed gîte with a heated pool.
Ideal for a B&B.
Villiers-en-Plaine. Maison de 6 chambres
élégante et colorée avec gîte de 3 chambres
et piscine chauffée. Idéal pour chambres
d'hôtes.
REF: 51794DW79
CHARENTE (16) €214,000 FAI
La Faye. Modern 3 bed house built in
2007 with spacious attached garden,
cellar, carport and garage.
La Faye. Maison de 3 chambres contemporaine
construite en 2007, grand jardin
attenant, cave, abri à voiture et garage.
REF: 57990MC16
VIENNE (86) €424,000 FAI
Chaunay. 6 bed farmhouse with cellar,
bread oven, farm buildings, open and
closed barns, well, garden and land with
woodland.
Chaunay. Ancienne ferme de 6 chambres
avec cave, four à pain, bâtiments d'exploitation, granges,
puits, jardin et terres dont
des bois.
REF: 56390DCO86
DEUX-SÈVRES (79) €945,000 FAI
Nr Niort. 5 bed restored watermill in
idyllic surroundings. Water on all sides,
allowing boating and fishing. Beautiful
gardens and heated swimming pool.
Proche de Niort. Moulin rénové de 5
chambres dans un très bel environnement.
Entouré d'eau, idéal pour le canotage et la
pêche. Ravissants jardins. Piscine chauffée.
REF: 45682PW79
CHARENTE (16) €133,000 FAI
Beaulieu-sur-Sonnette. Pretty 3 bed stone
house with lovely views. Above-ground
pool and covered eating area.
Beaulieu-sur-Sonnette. Jolie maison en
pierres de 3 chambres avec de très belles
vues. Piscine hors sol. Terrasse couverte.
REF: 50220GM16
DEUX-SÈVRES (79) €318,000 FAI
Thouars. Beautifully restored 4 bed
maison de maître, ready to move into.
Lovely enclosed courtyard area with water
feature. Large restored outbuildings.
Thouars. Maison de maître de 4 chambres
soigneusement rénovée et habitable de
suite. Cour intérieure avec pièce d'eau.
Dépendances rénovées.
REF: 47829DW79
CHARENTE (16) €93,500 FAI
Verdille. Restored property with 2
mezzanine bedrooms. Gardens front and
rear, barns ready to be converted into
accommodation.
Verdille. Propriété rénovée avec 2 chambres
en mezzanine. Jardins à l'avant et à l'arrière, granges
aménageables.
REF: 57008VC16
CHARENTE (16) €288,900 FAI
Ventouse. Beautiful 5 bed house with
outbuildings. Renovated to high standard
by local artisans. In hamlet 10 mins from
Mansle and amenities.
Ventouse. Magnifique maison de 5 chambres avec dépendances. Rénovation
de
grande qualité. 10 mins de Mansle.
REF: 38592GR16