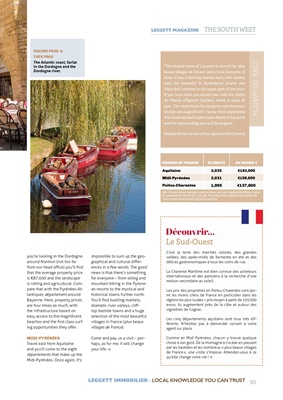 93
LEGGETT IMMOBILIER - LOCAL KNOWLEDGE YOU CAN TRUST
NB : Climate shows average sunshine hours per year supplied by Meteo France
& compared to UK rate of 1,341 pa. Property prices supplied by Notaires de
France and correct at time of going to press.
REGION OF FRANCE
CLIMATE
AV HOUSE €
Aquitaine 2,035 €183,000
Midi-Pyrénées 2,031 €159,600
Poitou-Charentes 1,995 €137,800
ONE TO WATCH
"The bastide town of Lauzerte is one of the 'plus
beaux villages de France' and a local favourite of
mine. It has a thriving market and a rich history,
with the beautiful St Barthélemy church and
Place des Cornières in the upper part of the town.
If you have time, you should also visit the Jardin
du Pèlerin (Pilgrim's Garden), which is open all
year . The views from the ramparts over the countryside
are magnificent. I know from experience
that international buyers seem drawn to Lauzerte
and the surrounding area as if by magnet."
Natasja Kovacs is one of our agents in the Quercy.
LEGGETT MAGAZINE THE SOUTH WEST
Découvrir...
Le Sud-Ouest
C'est la terre des marchés colorés, des grandes
vallées, des après-midis de farniente en été et des
délices gastronomiques à tous les coins de rue.
La Charente Maritime est bien connue des acheteurs
internationaux et des parisiens à la recherche d'une
maison secondaire au soleil.
Les prix des propriétés en Poitou Charentes sont parmi les moins chers
de France en particulier dans les
régions les plus rurales - prix moyen à partir de 105  000
euros. Ils augmentent près de la côte et autour des
vignobles de Cognac.
Les cinq départements aquitains sont tous très différents.
N'hésitez pas à demander conseil à votre
agent sur place.
Comme en Midi Pyrénées, chacun y trouve quelque
chose à son goût. De la montagne à l'océan en passant
par les bastides et les nombreux «  plus beaux villages
de France », une visite s'impose. Attendez-vous à ce
qu'elle change votre vie  !
you're looking in the Dordogne
around Nontron (not too far
from our head office) you'll find
that the average property price
is €87,000 and the landscape
is rolling and agricultural. Compare
that with the Pyrénées-Atlantiques département
around
Bayonne. Here, property prices
are four times as much, with
the infrastructure based on
easy access to the magnificent
beaches and the first class surfing opportunities they
offer.
MIDI-PYRÉNÉES
Travel east from Aquitaine
and you'll come to the eight
départements that make up the
Midi-Pyrénées. Once again, it's
impossible to sum up the geographical
and cultural differences
in a few words. The good
news is that there's something
for everyone - from skiing and
mountain biking in the Pyrenean resorts
to the mystical and
historical towns further north.
You'll find bustling markets,
dramatic river valleys, clifftop bastide towns
and a huge
selection of the most beautiful
villages in France (plus beaux
villages de France).
Come and pay us a visit - perhaps, as for
me, it will change
your life.
FACING PAGE &
THIS PAGE
The Atlantic coast; Sarlat
in the Dordogne and the
Dordogne river.