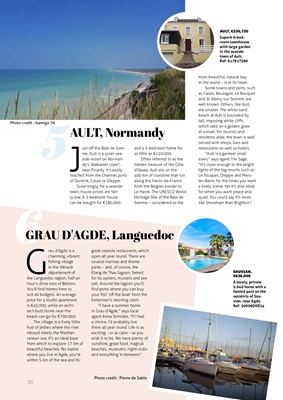 J
ust off the Baie de Somme,
Ault is a  quiet seaside resort
on Normandy's 'Alabaster coast',
near Picardy. It's easily
reached from the Channel ports
of Dunkirk, Calais or Dieppe.
Surprisingly, for a seaside
town, house prices are fairly low.
A 3-bedroom house
can be bought for €180,000
AULT, Normandy
and a 2-bedroom home for
as little as €120,000.
Often referred to as the
hidden treasure of the Côte
d'Opale, Ault sits on the
400 km of coastline that run
along the Hauts-de-France
from the Belgian border to
Le Havre. The UNESCO World
Heritage Site of the Baie de
Somme - considered as the
most beautiful, natural bay
in the world - is at its heart.
Some towns and ports, such
as Calais, Boulogne, Le Bouquet
and St Valery-sur-Somme, are
well known. Others, like Ault,
are smaller. The white-sand
beach at Ault is bounded by
tall, imposing white cliffs,
which take on a golden glow
at sunset.  For tourists and
residents alike, the town is well
served with shops, bars and
restaurants as well as hotels.
"Ault is a genteel small
town," says agent Tim Sage.
"It's close enough to the bright
lights of the big resorts such as
Le Touquet, Dieppe and Mersles-Bains for
the times you want
a lively scene. Yet it's also ideal
for when you want peace and
quiet. You could say it's more
like Shoreham than Brighton."
Photo credit : Isamiga 76
Photo credit : Pierre de Sable
38
SAUVIAN,
€636,000
A lovely, private
5-bed home with a
heated pool on the
outskirts of Sauvian, near Agde.
Ref: 50999DKR34
AULT, €330,720
Superb 6-bedroom
townhouse
with large garden
in the seaside
town of Ault.
Ref: 61781TS80
5
6
G
rau d'Agde is a
charming, vibrant
fishing village
in the Hérault
département of
the Languedoc region, half an
hour's drive east of Béziers.
You'll find homes here to
suit all budgets. An average
price for a studio apartment
is €45,000, while an architect-built
home near the
beach can go for €700,000.
The village is a lively little
hub of jetties where the river
Hérault meets the Mediterranean
sea. It's an ideal base
from which to explore 17 km of
beautiful beaches.  No matter
where you live in Agde, you're
within 5 km of the sea and its
GRAU D'AGDE, Languedoc
great seaside restaurants, which
open all year round. There are
several marinas and theme
parks - and, of course, the
Etang de Thau lagoon, famed
for its oysters, mussels and sea
salt.  Around the lagoon you'll
find ports where you can buy
your fish 'off the boat' from the
fishermen's morning catch.
"I have a summer home
in Grau d'Agde," says local
agent Anna Sirinides. "If I had
a choice, I'd probably live
there all year round. Life is as
exciting - or as calm - as you
wish it to be.  We have plenty of
sunshine, great food, magical
beaches, museums, night-clubs
and everything in between."