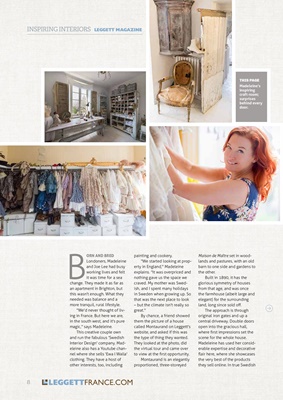 INSPIRING INTERIORS LEGGETT MAGAZINE
B
ORN AND BRED
Londoners, Madeleine
and Joe Lee had busy
working lives and felt
it was time for a sea
change. They made it as far as
an apartment in Brighton, but
this wasn't enough. What they
needed was balance and a
more tranquil, rural lifestyle.
"We'd never thought of living in France.
But here we are,
in the south west, and it's pure
magic," says Madeleine.
This creative couple own
and run the fabulous 'Swedish
Interior Design' company. Madeleine also has a Youtube
channel where
she sells 'Ewa I Walla'
clothing. They have a host of
other interests, too, including
painting and cookery.
"We started looking at property in England," Madeleine
explains. "It was overpriced and
nothing gave us the space we
craved. My mother was Swedish, and I spent many holidays
in Sweden when growing up. So
that was the next place to look
- but the climate isn't really so
great."
By chance, a friend showed
them the picture of a house
called Montaurand on Leggett's
website, and asked if this was
the type of thing they wanted.
They looked at the photo, did
the virtual tour and came over
to view at the first opportunity.
Montaurand is an elegantly
proportioned, three-storeyed
Maison de Maître set in woodlands and pastures,
with an old
barn to one side and gardens to
the other.
Built in 1890, it has the
glorious symmetry of houses
from that age, and was once
the farmhouse (albeit large and
elegant) for the surrounding
land, long since sold off.
The approach is through
original iron gates and up a
central driveway. Double doors
open into the gracious hall,
where first impressions set the
scene for the whole house.
Madeleine has used her considerable
expertise and decorative
flair here, where she showcases
the very best of the products
they sell online. In true Swedish
THIS PAGE
Madeleine's
inspiring
craft room;
surprises
behind every
door.