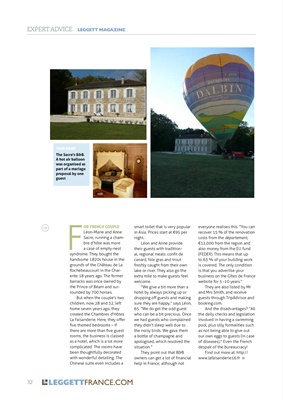 EXPERT ADVICE LEGGETT MAGAZINE
THIS PAGE
The Sacre's B&B.
A hot air balloon
was organised as
part of a mariage
proposal by one
guestF
OR FRENCH COUPLE
Léon-Marie and Anne
Sacre, running a chambre
d'hôte was more
a case of empty-nest
syndrome. They bought the
handsome 1820s house in the
grounds of the Château de La
Rochebeaucourt in the Charente 18 years
ago. The former
barracks was once owned by
the Prince of Béarn and surrounded
by 700 horses.
But when the couple's two
children, now 28 and 32, left
home seven years ago, they
created the Chambres d'Hôtes
La Faisanderie. Here, they offer
five themed bedrooms - if
there are more than five guest
rooms, the business is classed
as a hotel, which is a lot more
complicated. The rooms have
been thoughtfully decorated
with wonderful detailing. The
Chinese suite even includes a
smart toilet that is very popular
in Asia. Prices start at €95 per
night.
Léon and Anne provide
their guests with traditional, regional
meals: confit de
canard, foie gras and trout
freshly caught from their own
lake or river. They also go the
extra mile to make guests feel
welcome.
"We give a bit more than a
hotel by always picking up or
dropping off guests and making
sure they are happy," says Léon,
65. "We do get the odd guest
who can be a bit precious. Once
we had guests who complained
they didn't sleep well due to
the noisy birds. We gave them
a bottle of champagne and
apologised, which resolved the
situation."
They point out that B&B
owners can get a lot of financial
help in France, although not
everyone realises this. "You can
recover 15 % of the renovation
costs from the département,
€12,000 from the region and
also money from the EU fund
(FEDER). This means that up
to 63 % of your building work
is covered. The only condition
is that you advertise your
business on the Gîtes de France
website for 5 -10 years."
They are also listed by Mr
and Mrs Smith, and receive
guests through TripAdvisor and
And the disadvantages? "All
the daily checks and legislation
involved in having a swimming
pool, plus silly formalities such
as not being able to give out
our own eggs to guests (in case
of diseases)." Even the French
despair of the bureaucracy!
Find out more at: http://