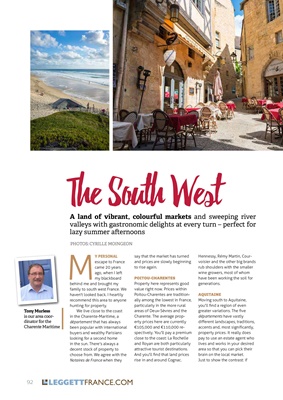 Albi
Hennessy, Rémy Martin, Courvoisier
and the other big brands
rub shoulders with the smaller
wine growers, most of whom
have been working the soil for
generations.
AQUITAINE
Moving south to Aquitaine,
you'll find a region of even
greater variations. The five
départements have vastly
different landscapes, traditions,
accents and, most significantly,
property prices. It really does
pay to use an estate agent who
lives and works in your desired
area so that you can pick their
brain on the local market.
Just to show the contrast: if
M
Y PERSONAL
escape to France
came 20 years
ago, when I left
my blackboard
behind me and brought my
family to south west France. We
haven't looked back. I heartily
recommend this area to anyone
hunting for property.
We live close to the coast
in the Charente-Maritime, a
département that has always
been popular with international
buyers and wealthy Parisians
looking for a second home
in the sun. There's always a
decent stock of property to
choose from. We agree with the
Notaires de France when they
say that the market has turned
and prices are slowly beginning
to rise again.
POITOU-CHARENTES
Property here represents good
value right now. Prices within
Poitou-Charentes are traditionally among the lowest
in France,
particularly in the more rural
areas of Deux-Sèvres and the
Charente. The average property prices
here are currently
€105,000 and €110,000 respectively.
You'll pay a premium
close to the coast: La Rochelle
and Royan are both particularly
attractive tourist destinations.
And you'll find that land prices
rise in and around Cognac.
Tony Murless
is our area coordinator
for the
Charente Maritime
A land of vibrant, colourful markets and sweeping river
valleys with gastronomic delights at every turn - perfect for
lazy summer afternoons
PHOTOS: CYRILLE MOINGEON
The South West