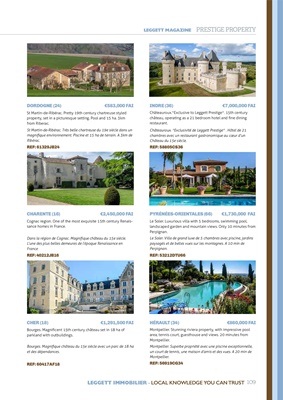 LEGGETT IMMOBILIER - LOCAL KNOWLEDGE YOU CAN TRUST 109
LEGGETT MAGAZINE PRESTIGE PROPERTY
DORDOGNE (24) €583,000 FAI
St Martin-de-Ribérac. Pretty 19th century chartreuse styled
property, set in a picturesque setting. Pool and 15 ha. 3km
from Riberac.
St Martin-de-Ribérac. Très belle chartreuse du 19e siècle dans un
magnifique environnement. Piscine et 15 ha de terrain. A 3km de
Ribérac.
REF: 61329JB24
INDRE (36) €7,000,000 FAI
Châteauroux.*Exclusive to Leggett Prestige*. 15th century
château, operating as a 21 bedroom hotel and fine dining
restaurant.
Châteauroux. *Exclusivité de Leggett Prestige* . Hôtel de 21
chambres avec un restaurant gastronomique au cœur d'un
Château du 15e siècle.
REF: 58805CS36
CHARENTE (16) €2,450,000 FAI
Cognac region. One of the most exquisite 15th century Renaissance
homes in France.
Dans la région de Cognac. Magnifique château du 15e siècle.
L'une des plus belles demeures de l'époque Renaissance en
France
REF: 40212JB16
PYRÉNÉES-ORIENTALES (66) €1,730,000 FAI
Le Soler. Luxurious villa with 5 bedrooms, swimming pool,
landscaped garden and mountain views. Only 10 minutes from
Perpignan.
Le Soler. Villa de grand luxe de 5 chambres avec piscine, jardins
paysagés et de belles vues sur les montagnes. A 10 min de
Perpignan.
REF: 53212DTU66
CHER (18) €1,291,500 FAI
Bourges. Magnificent 15th century château set in 18 ha of
parkland with outbuildings.
Bourges. Magnifique château du 15e siècle avec un parc de 18 ha
et des dépendances.
REF: 60417AF18
HÉRAULT (34) €860,000 FAI
Montpellier. Stunning riviera property, with impressive pool
area, tennis court, guesthouse and views. 20 minutes from
Montpellier.
Montpellier. Superbe propriété avec une piscine exceptionnelle,
un court de tennis, une maison d'amis et des vues. A 20 min de
Montpellier.
REF: 56919CG34