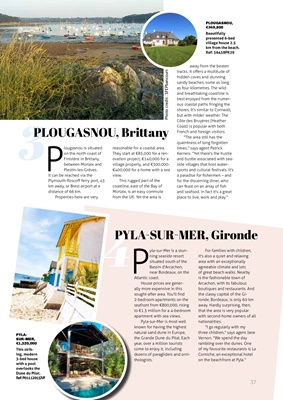 Photo credit : SFEPbancourt
37
PLOUGASNOU,
€349,800
Beautifully
presented 6-bed
village house 2.5
km from the beach.
Ref: 56438PK29
PYLASUR-MER,
€1,320,000
This striking,
modern
3-bed house
with a pool
overlooks the
Dune du Pilat.
Ref: P01112015JVF
3P
lougasnou is situated
on the north coast of
Finistère in Brittany,
between Morlaix and
Plestin-les-Grèves.
It can be reached via the
Plymouth-Roscoff ferry port, 43
km away, or Brest airport at a
distance of 66 km.
Properties here are very
PLOUGASNOU, Brittany
reasonable for a coastal area.
They start at €85,000 for a renovation
project, €140,000 for a
village property, and  €300,000-
€400,000 for a home with a sea
view.
This rugged part of the
coastline, east of the Bay of
Morlaix, is an easy commute
from the UK. Yet the area is
away from the beaten
tracks. It offers a multitude of
hidden coves and stunning
sandy beaches, some as long
as four kilometres.  The wild
and breathtaking coastline is
best enjoyed from the numerous coastal
paths fringing the
shores. It's similar to Cornwall,
but with milder weather. The
Côte des Bruyères (Heather
Coast) is popular with both
French and foreign visitors.
"The area still has the
quaintness of long forgotten
times," says agent Patrick
Kerneis. "Yet there's the hustle
and bustle associated with seaside villages
that host watersports and cultural
festivals. It's
a paradise for fishermen - and
for the discerning diner, who
can feast on an array of fish
and seafood. In fact it's a great
place to live, work and play."
4P
yla-sur-Mer is a stunning seaside resort
situated south of the
Bassin d'Arcachon,
near Bordeaux, on the
Atlantic coast.
House prices are generally more
expensive in this
sought-after area. You'll find
2-bedroom apartments on the
seafront from €800,000, rising
to €1.3 million for a 4-bedroom
apartment with sea views.
Pyla-sur-Mer is most well
known for having the highest
natural sand dune in Europe,
the Grande Dune du Pilat. Each
year, over a million tourists
come to enjoy it, including
dozens of paragliders and ornithologists.
PYLA-SUR-MER, Gironde
For families with children,
it's also a quiet and relaxing
area with an exceptionally
agreeable climate and lots
of great beach walks. Nearby
is the fashionable town of
Arcachon, with its fabulous
boutiques and restaurants. And
the classy capital of the Gironde,
Bordeaux, is only 60 km
away.  Hardly surprising, then,
that the area is very popular
with second-home owners of all
nationalities.
"I go regularly with my
three children," says agent Jane
Vernon. "We spend the day
rambling over the dunes. One
of my favourite restaurants is La
Corniche, an exceptional hotel
on the beachfront at Pyla."