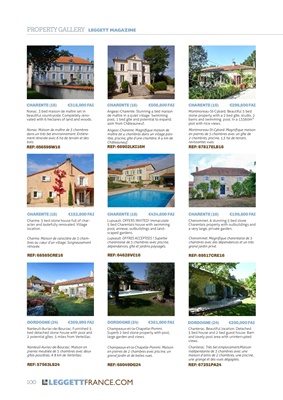 100
PROPERTY GALLERY LEGGETT MAGAZINE
CHARENTE (16) €152,600 FAI
Charme. 3 bed stone house full of character and tastefully
renovated. Village
location.
Charme. Maison de caractère de 3 chambres au cœur d'un village.
Soigneusement
rénovée.
REF: 68585CRE16
CHARENTE (16) €434,600 FAI
Lupsault. OFFERS INVITED! Immaculate
5 bed Charentais house with swimming
pool, annexe, outbuildings and landscaped gardens.
Lupsault. OFFRES ACCEPTEES ! Superbe
charentaise de 5 chambres avec piscine,
dépendances, gîte et jardins paysagés.
REF: 64628VC16
CHARENTE (16) €199,800 FAI
Chenommet. A stunning 5 bed stone
Charentais property with outbuildings and
a very large, private garden.
Chenommet. Magnifique charentaise de 5
chambres avec des dépendances et un très
grand jardin privé.
REF: 69517CRE16
DORDOGNE (24) €309,995 FAI
Nanteuil-Auriac-de-Bourzac. Furnished 5
bed detached stone house with pool and
2 potential gÎtes. 5 miles from Verteillac.
Nanteuil-Auriac-de-Bourzac. Maison en
pierres meublée de 5 chambres avec deux
gîtes possibles. A 8 km de Verteillac.
REF: 57563LS24
DORDOGNE (24) €381,600 FAI
Champeaux-et-la-Chapelle-Pommi.
Superb 2 bed stone property with pool,
large garden and views.
Champeaux-et-la-Chapelle-Pommi. Maison
en pierres de 2 chambres avec piscine, un
grand jardin et de belles vues.
REF: 68049DG24
DORDOGNE (24) €250,000 FAI
Chanterac. Beautiful location. Detached
3 bed house and 2 bed guest house. Barn
and lovely pool area with uninterrupted
views.
Chanterac. Très bel emplacement.Maison
indépendante de 3 chambres avec une
maison d'amis de 2 chambres, une piscine,
une grange et des vues dégagées.
REF: 67251PA24
CHARENTE (16) €318,000 FAI
Nonac. 3 bed maison de maÎtre set in
beautiful countryside. Completely renovated with 6 hectares
of land and woods.
Nonac. Maison de maître de 3 chambres
dans un très bel environnement. Entièrement rénovée
avec 6 ha de terrain et des
bois.
REF: 65659SW16
CHARENTE (16) €508,800 FAI
Angeac-Charente. Stunning 4 bed maison
de maître in a quiet village. Swimming
pool, 1 bed gÎte and potential to expand.
4km from Châteauneuf.
Angeac-Charente. Magnifique maison de
maître de 4 chambres dans un village paisible, piscine, gîte d'une chambre. A 4 km de
Châteauneuf.
REF: 66902LKI16H
CHARENTE (16) €299,600 FAI
Montmoreau-St-Cybard. Beautiful 5 bed
stone property with a 2 bed gÎte, studio, 2
barns and swimming pool. In a 13560m2
plot with nice views.
Montmoreau-St-Cybard. Magnifique maison
en pierres de 5 chambres avec un gîte de
2 chambres, piscine, 1,3 ha de terrain,
ravissantes vues.
REF: 67817ELB16
100 LEGGETTFRANCE.COM