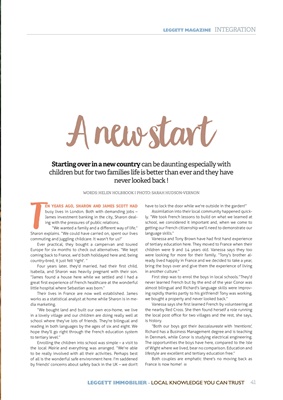 NB : Climate shows average sunshine hours per year supplied by Meteo
France & compared to UK rate of 1,341 pa. Property prices supplied by
Notaires de France and correct at time of going to press.
LEGGETT IMMOBILIER - LOCAL KNOWLEDGE YOU CAN TRUST 41
ONE TO WATCH
" Saujon is a pretty and expanding
town near the Charente-Maritime
beaches. Only a ten-minute drive
from the coastal town of Royan, its
property prices are around half of
those in Royan centre. Saujon has
excellent road and rail
communications and a lively and
animated town centre. It's a town on
a human scale, with plenty of
traditional activities like thermal
cures and, of course, some of the
finest seafood restaurants in the
region"
Tony Murless is area coordinator
for the Charente-Maritime.
Email: tmurless@leggett.fr
REGION OF FRANCE
CLIMATE
AV HOUSE €
Pays-de-la-loire 1,852 €156,000
Poitou-Charentes 1,995 €142,000
We adore living in France as everyone
is welcoming and has time for each
other. There is real respect and politeness
in the community. There is no
need for the latest status symbol nor
for huge incomes or impressive job
titles. It's you as a person that counts.
Forget stress, it doesn't exist here!
LEGGETT CLIENTS DAN & KATE HALLAM
Port of La Rochelle
River Vienne
the lowest prices in France.
The town of Mayenne lies on
the river of the same name and
is steeped in history.
POITOU-CHARENTES
Further south, the region of
Poitou-Charentes is popular
with international buyers.
Indeed, at the height of the
recent financial crisis it was the
only region in France to see
an increase in French property
bought by non-residents.
The micro climate enjoyed
by the département of Charente-Maritime makes
it the second sunniest
part of France, and
the string of top class coastal
resorts reflects this - think
Royan, La Rochelle and the île-
de-Ré. There are also plenty
of great properties to be had
a little inland where you have
easy access to the beaches.
One very popular town
that falls into this category is
Cognac. In this lively town you'll
find the historic homes of world
famous cognac houses along
the quayside. It boasts an array
of music festivals, a championship golf
course and some
superb restaurants and bars.
The valley of the river
Charente hosts some pretty,
typically French towns and villages.
Angoulême and Saintes
are popular areas for tourists
and home buyers alike as they
can mix messing about on the
river with countryside walks
through the stunning vineyards.
Heading north, you reach
the départements of the Vienne
and the Deux-Sèvres, both popular due to their ease of
access
and well priced property.
The Vienne is home to
historic Poitiers, where you will
find an airport and plenty of
attractions. Property prices are
at a premium in and around
Poitiers - so it's well worth
exploring and getting a good
feel for the surrounding area.
This is my 'home' patch and
we were seduced by rolling
fields of sunflowers, forests to
explore, chemin blancs to walk
along and the river Vienne to
kayak on.
Next door, the Deux-Sèvres
offers some really well priced
properties. The historic town of
Parthenay mixes a fascinating
history with modern living - it
was the first town in France
to win a 'connectivity' award,
which is a huge bonus to house
buyers in this online era.
Further south you will find
that the area around Niort is
a popular destination with
house buyers who are looking
to escape to the country, but
who want to be within striking
distance of a lively town with a
great choice of bars, restaurants
and things to do. Niort is equidistant between
La Rochelle
and Poitiers, both of which
have airports, so it really is well
placed.
AND FINALLY...
Whichever region you choose, I
hope that western France brings
you as much happiness as it has
to us. Bon courage!
{ {