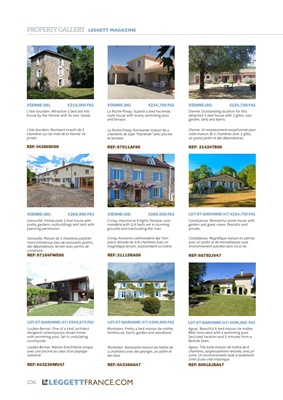 104104
PROPERTY GALLERY LEGGETT MAGAZINE
VIENNE (86) €288,900 FAI
Genouillé. Immaculate 5 bed house with
pretty gardens, outbuildings and land with
planning permission.
Genouillé. Maison de 5 chambres parfaitement entretenue avec de ravissants
jardins,
des dépendances, terrain avec permis de
construire.
REF: 67164FWE86
VIENNE (86) €299.950 FAI
Civray. Impressive Knights Templar commanderie
with 5/6 beds set in stunning
grounds and overlooking the river.
Civray. Ancienne commanderie des Templiers rénovée
de 5/6 chambres avec un
magnifique terrain, surplombant la rivière.
REF: 31115RA86
LOT-ET-GARONNE (47) €224,700 FAI
Casteljaloux. Wonderful stone house with
garden and great views. Peaceful and
private.
Casteljaloux. Magnifique maison en pierres
avec un jardin et de merveilleuses vues.
Environnement paisible sans vis-à-vis.
REF: 68793JV47
LOT-ET-GARONNE (47) €549,675 FAI
Loubès-Bernac. One of a kind, architect
designed contemporary dream home
with swimming pool. Set in undulating
countryside.
Loubès-Bernac. Maison d'architecte unique
avec une piscine au cœur d'un paysage
vallonné.
REF: 64323KMV47
LOT-ET-GARONNE (47) €299,998 FAI
Monbalen. Pretty 4 bed maison de maître,
farmhouse, barns, garden and woodland.
Monbalen. Ravissante maison de maître de
4 chambres avec des granges, un jardin et
des bois.
REF: 64338HA47
LOT-ET-GARONNE (47) €495,000 FAI
Agnac. Beautiful 6 bed maison de maître.
Well renovated with a swimming pool.
Secluded location and 5 minutes from a
Bastide town.
Agnac. Très belle maison de maître de 6
chambres, soigneusement rénovée, avec piscine. Un environnement isolé à seulement
5min d'une ville historique.
REF: 60918JBA47
VIENNE (86) €210,000 FAI
L'Isle-Jourdain. Attractive 3 bed old mill
house by the Vienne with its own island.
L'Isle-Jourdain. Ravissant moulin de 3
chambres sur les rives de la Vienne. Ile
privée.
REF: 44386SC86
VIENNE (86) €224,700 FAI
La Roche-Posay. Superb 4 bed hacienda
style house with lovely swimming pool
and terrace.
La Roche-Posay. Ravissante maison de 4
chambres de style "Hacienda" avec piscine
et terrasse.
REF: 67011AF86
VIENNE (86) €224,700 FAI
Dienne. Outstanding location for this
detached 5 bed house with 2 gîtes, vast
garden, land and barns.
Dienne. Un emplacement exceptionnel pour
cette maison de 5 chambres avec 2 gîtes,
un grand jardin et des dépendances.
REF: 21424TB86
104 LEGGETTFRANCE.COM