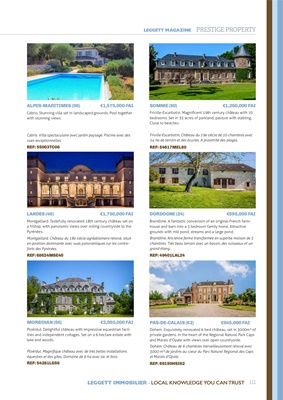 111
ALPES-MARITIMES (06) €1,575,000 FAI
Cabris. Stunning villa set in landscaped grounds. Pool together
with stunning views.
Cabris. Villa spectaculaire avec jardin paysagé. Piscine avec des
vues exceptionnelles.
REF: 55003TC06
SOMME (80) €1,260,000 FAI
Friville-Escarbotin. Magnificent 19th century château with 10
bedrooms. Set in 35 acres of parkland, pasture with stabling.
Close to beaches.
Friville-Escarbotin. Château du 19e siècle de 10 chambres avec
14 ha de terrain et des écuries. A proximité des plages.
REF: 54617MEL80
LANDES (40) €1,750,000 FAI
Montgaillard. Tastefully renovated 18th century château set on
a hilltop, with panoramic views over rolling countryside to the
Pyrénées.
Montgaillard. Château du 18e siècle agréablement rénové, situé
en position dominante avec vues panoramiques sur les contreforts des Pyrénées.
REF: 68624MSE40
DORDOGNE (24) €595,000 FAI
BrantÔme. A fantastic conversion of an original French farmhouse and barn into a 5 bedroom
family home. Attractive
grounds with mill pond, streams and a large pond.
Brantôme. Ancienne ferme transformée en superbe maison de 5
chambres. Très beau terrain avec un bassin, des ruisseaux et un
grand étang.
REF: 49401LAL24
MORBIHAN (56) €2,080,000 FAI
Ploërdut. Delightful château with impressive equestrian facilities and independent cottages.
Set on a 6 hectare estate with
lake and woods.
Ploërdut. Magnifique château avec de très belles installations
équestres et des gites. Domaine de 6 ha avec lac et bois.
REF: 54281LG56
PAS-DE-CALAIS (62) €945,000 FAI
Dohem. Exquisitely renovated 6 bed château, set in 3000m² of
private gardens. In the heart of the Regional Natural Park Caps
and Marais d'Opale with views over open countryside.
Dohem. Château de 6 chambres merveilleusement rénové avec
3000 m² de jardins au coeur du Parc Naturel Régional des Caps
et Marais d'Opale.
REF: 69199HSI62
LEGGETT MAGAZINE PRESTIGE PROPERTY
LEGGETT IMMOBILIER - LOCAL KNOWLEDGE YOU CAN TRUST