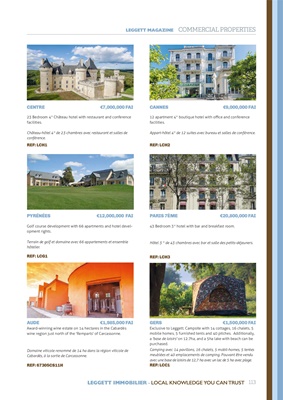 LEGGETT IMMOBILIER - LOCAL KNOWLEDGE YOU CAN TRUST 113
CENTRE €7,000,000 FAI
23 Bedroom 4* Château hotel with restaurant and conference
facilities.
Château-hôtel 4* de 23 chambres avec restaurant et salles de
conférence.
REF: LCH1
CANNES €9,000,000 FAI
12 apartment 4* boutique hotel with office and conference
facilities.
Appart-hôtel 4* de 12 suites avec bureau et salles de conférence.
REF: LCH2
PYRÉNÉES €12,000,000 FAI
Golf course development with 66 apartments and hotel development rights.
Terrain de golf et domaine avec 66 appartements et ensemble
hôtelier.
REF: LCG1
PARIS 7ÈME €20,800,000 FAI
43 Bedroom 3* hotel with bar and breakfast room.
Hôtel 3 * de 43 chambres avec bar et salle des petits-déjeuners.
REF: LCH3
AUDE €1,985,000 FAI
Award-winning wine estate on 14 hectares in the Cabardès
wine region just north of the 'Remparts' of Carcassonne.
Domaine viticole renommé de 14 ha dans la région viticole de
Cabardès, à la sortie de Carcassonne.
REF: 67305CS11H
GERS €1,500,000 FAI
Exclusive to Leggett. Campsite with 14 cottages, 16 chalets, 5
mobile homes, 5 furnished tents and 40 pitches. Additionally,
a 'base de loisirs' on 12.7ha, and a 5ha lake with beach can be
purchased.
Camping avec 14 pavillons, 16 chalets, 5 mobil-homes, 5 tentes
meublées et 40 emplacements de camping. Pouvant être vendu
avec une base de loisirs de 12,7 ha avec un lac de 5 ha avec plage.
REF: LCC1
LEGGETT MAGAZINE COMMERCIAL PROPERTIES