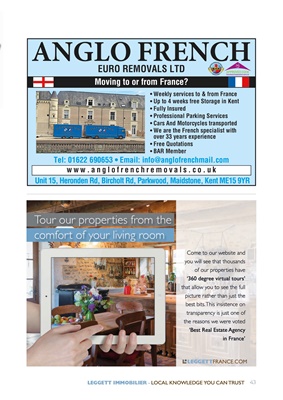 43
LEGGETT MAGAZINE WESTERN FRANCE
Detached 6 bedroom house with large garden and swimming pool
This spacious and secluded 6 bedroom house has a generous pool area and large lawned garden edged with tall trees. Built by a local
timber merchant in 1964 it has a wealth of wooden features, giving it more character than many of its contemporaries. It is just 10
minutes from the popular town of Aubeterre.
Maison de campagne, comprenant cuisine, séjour, 6 chambres, 2 salles de bains. Jardin de 4300 m², avec Piscine et Garage
Cette maison spacieuse a été construite par un marchand de bois de la région, en 1964, et possède beaucoup plus de caractère que la plupart
des maisons de cette époque. Elle est située au milieu de son terrain, isolée par de grands arbres et presque invisible depuis la route. Elle n'est
qu'à 10 minutes de la jolie petite ville d'Aubeterre.
REF: 33993LS16
DETACHED 6 BEDROOM HOUSE / MAISON DE CAMPAGNE 6 CHAMBRES
CHARENTE €249,995 FAI
LEGGETT IMMOBILIER - LOCAL KNOWLEDGE YOU CAN TRUST