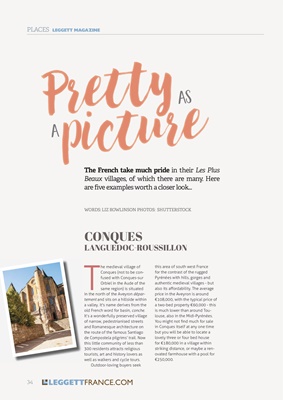 34
T
he centre of France
is home to the four
regions of Limousin,
Centre, Auvergne
and Bourgogne - or
Burgandy, as it is known around
the world. Together they make
up one of the most stunning
areas of France.
CENTRE
Let's kick off in the Centre
region and with the very beautiful cities of
Tours and Orléans.
Tours has always been a very
important crossing point of
the river Loire and is called Le
Jardin de la France due to the
beauty of its parks and gardens.
The historic bridges that span
the river are popular with tourists, as is the cathedral.
Orléans
too is located on the River Loire
and as the regional capital it
Central France
Dramatic scenery, timeless beauty and bargain properties,
central France is always associated with farmland, quiet country
lanes and the lowest property prices in all of France
WORDS: KEVIN ANDREWS | PHOTOS: SHUTTERSTOCK
plays an important role in local
life. Part of it is a UNESCO world
heritage site, and five bridges
span the river. The heart of the
city is steeped in history, with
lovely bars and restaurants and
an excellent tram service for
getting around. House prices
around these two important
cities are the highest in central
France, but once you get out
into the countryside they then
LIVING IN CENTRAL FRANCE LEGGETT MAGAZINE
View of the vineyards
in Gevrey Chambertin
Kevin Andrews is our
area coordinator for
the Haute-Vienne.
Contact him at