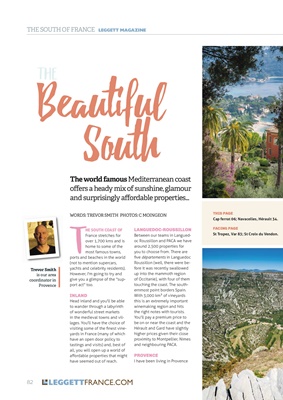 82
M
any years ago, Barbara
spent a year studying
in Paris. Although she
followed this by working
in Los Angeles as a
designer, actress and dancer, her love
for France remained in a corner of her
heart. When the opportunity to move
to France arose, she didn't hesitate.
Barbara takes up her story: "While I
wanted a complete change of lifestyle,
I didn't imagine I'd end up living in
a little town - where there are more
cows than people - married to a
Frenchman and selling real estate with
Leggett. My new home is Ploërdut, in
the Morbihan, Brittany. It's so far removed
from LA that I feel I've stepped
back into another era.
"Growing up, my neighbours
were in real estate. I always thought
it would be an exciting career. When
I first arrived here I tried a variety
of occupations, but then I saw the
advertisement for Leggett. It immediately resonated.
Once I'd met with
them, learned about their values and
understood the support they offered,
I decided to join them. The marketing,
systems and training Leggett offered
were all instrumental in my decision.
It's already starting to pay real dividends.
"When I first went to their head office
I saw how happy everyone was. As
soon as I started, they found someone
from the local Leggett team to mentor
me. Being a Californian, I like working
with a family-based organisation. I
value their emphasis on delivering the
truth, which is a far cry from so many
real estate outfits.
"There's no doubt that their backup and strong
marketing focus give
us agents the competitive edge in the
marketplace. The local Breton market
is definitely starting to buzz. Although
it's still early days, I feel the market
has bottomed out, so now could be
the optimum time to buy. I'm picking
up mandates to sell almost every day
at the moment. The properties I'm
listing are right across the board. I've
got everything, from projects starting
at €21,000, to a moulin at €527,499.
Further afield, I have a couple of
châteaux on my books. They really are
something special.
"Selling property with Leggett has
changed my life. I love working with
people to provide them with the best
possible real estate solutions. Strangely enough, more
than one of my Californian
friends has said that this is the
Leggett life...
lifestyle they'd always envisaged for
me. It's clearly the perfect fit."
Barbara Guinio is our agent in the
north. Contact her at barbara@leggett.fr
or call +33 (0)6 74 98 49 21
For California beach
girl Barbara Guinio,
life in France as an
agent for Leggett
Immobilier is the
culmination of a
childhood dream
Selling property
with Leggett has
really changed
my life!
BARBARA GUINIO LEGGETT MAGAZINE
TOP Magnificent renovated stone mill
Ref: 37128BG56
WORK FOR LEGGETT
Do you fancy being like
Barbara and working with the
best estate agency in France?
Contact Sarah Edwards for
our recruitment prospectus
at sarah@leggett.fr, or
visit our website
WORDS: HELEN HOLBROOK
{ {