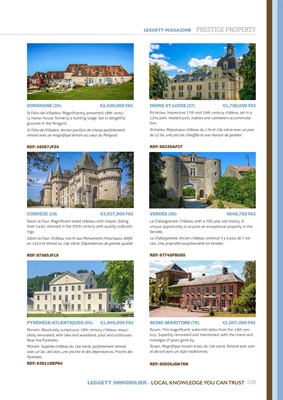 DORDOGNE (24) €2,450,000 FAI
St Félix-de-Villadeix. Magnificently presented 18th century manor house,
formerly a hunting lodge. Set in delightful
grounds in the Perigord.
St Félix-de-Villadeix. Ancien pavillon de chasse parfaitement
rénové avec un magnifique terrain au cœur du Périgord.
REF: 48557JF24
INDRE-ET-LOIRE (37) €1,700,000 FAI
Richelieu. Impressive 17th and 19th century château set in a
12ha park. Heated pool, stables and caretakers accommodation.
Richelieu. Majestueux château du 17e et 19e siècle avec un parc
de 12 ha, une piscine chauffée et une maison de gardien.
REF: 66335AF37
CORRÈZE (19) €3,937,500 FAI
Salon-la-Tour. Magnificent listed château with chapel, dating
from 1450, restored in the XIXth century with quality outbuildings.
Salon-la-Tour. Château inscrit aux Monuments Historiques, édifié
en 1450 et rénové au 19e siècle. Dépendances de grande qualité.
REF: 67885JF19
VENDÉE (85) €649,780 FAI
La Châtaigneraie. Château with a 700 year old history. A
unique opportunity to acquire an exceptional property in the
Vendée.
La Châtaigneraie. Ancien château construit il y a plus de 7 siècles. Une propriété exceptionnelle
en Vendée.
REF: 67748FBU85
PYRÉNÉES-ATLANTIQUES (64) €1,949,000 FAI
Monein. Absolutely sumptuous 19th century château, exquisitely renovated,
with lake and woodland, pool and outhouses.
Near the Pyrénées.
Monein. Superbe château du 19e siècle, parfaitement rénové,
avec un lac, des bois, une piscine et des dépendances. Proche des
Pyrénées.
REF: 63611SBP64
SEINE-MARITIME (76) €1,007,000 FAI
Rouen. This magnificent, watermill dates from the 19th century.
Superbly renovated and maintained, with the charm and
nostalgia of years gone by.
Rouen. Magnifique moulin à eau du 19e siècle. Rénové avec soin
et décoré dans un style traditionnel.
REF: 60205JDA76H
LEGGETT MAGAZINE PRESTIGE PROPERTY
109
LEGGETT IMMOBILIER - LOCAL KNOWLEDGE YOU CAN TRUST