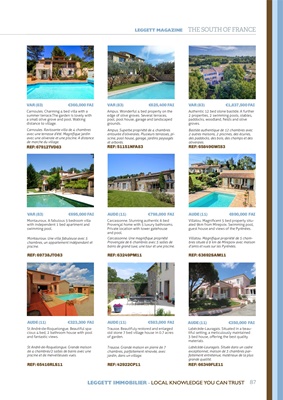 87
VAR (83) €695,000 FAI
Montauroux. A fabulous 5 bedroom villa
with independent 1 bed apartment and
swimming pool.
Montauroux. Une villa fabuleuse avec 5
chambres, un appartement indépendant et
piscine.
REF: 69738JTO83
AUDE (11) €798,000 FAI
Carcassonne. Stunning authentic 6 bed
Provençal home with 5 luxury bathrooms.
Private location with tower gatehouse
and pool.
Carcassonne. Une magnifique propriété
Provençale de 6 chambres avec 5 salles de
bains de grand luxe, une tour et une piscine.
REF: 63249PM11
AUDE (11) €690,000 FAI
Villatou. Magnificent 5 bed property situated 9km from
Mirepoix. Swimming pool,
guest house and views of the Pyrénées.
Villatou. Magnifique propriété de 5 chambres située à 9 km de Mirepoix avec maison
d'amis et vues sur les Pyrénées.
REF: 63692SAM11
AUDE (11) €323,300 FAI
St André-de-Roquelongue. Beautiful spacious 4 bed, 2 bathroom
house with pool
and fantastic views.
St André-de-Roquelongue. Grande maison
de 4 chambres/2 salles de bains avec une
piscine et de merveilleuses vues.
REF: 65416RLS11
AUDE (11) €583,000 FAI
Trausse. Beautifuly restored and enlarged
old stone 7 bed village house in 0.7 acres
of garden.
Trausse. Grande maison en pierre de 7
chambres, parfaitement rénovée, avec
jardin, dans un village.
REF: 42922CP11
AUDE (11) €350,000 FAI
Labécède-Lauragais. Situated in a beautiful setting,
a meticulously maintained
3 bed house, offering the best quality
materials.
Labécède-Lauragais. Située dans un cadre
exceptionnel, maison de 3 chambres parfaitement
entretenue, matériaux de la plus
grande qualité.
REF: 66349FLE11
VAR (83) €360,000 FAI
Carnoules. Charming 4 bed villa with a
summer terrace.The garden is lovely with
a small olive grove and pool. Walking
distance to village.
Carnoules. Ravissante villa de 4 chambres
avec une terrasse d'été. Magnifique jardin
avec une oliveraie et une piscine. A distance
de marche du village.
REF: 67912TVD83
VAR (83) €625,400 FAI
Ampus. Wonderful 4 bed property on the
edge of olive groves. Several terraces,
pool, pool house, garage and landscaped
grounds.
Ampus. Superbe propriété de 4 chambres
entourée d'oliveraies. Plusieurs terrasses, piscine, pool house, garage,
jardins paysagés
et arborés.
REF: 51151NFA83
VAR (83) €1,837,500 FAI
Authentic 12 bed stone bastide. A further
2 properties, 2 swimming pools, stables,
paddocks, woodland, fields and olive
groves.
Bastide authentique de 12 chambres avec
2 autres maisons, 2 piscines, des écuries,
des paddocks, des bois, des champs et des
oliveraies.
REF: 65849GWI83
87
LEGGETT MAGAZINE THE SOUTH OF FRANCE
LEGGETT IMMOBILIER - LOCAL KNOWLEDGE YOU CAN TRUST