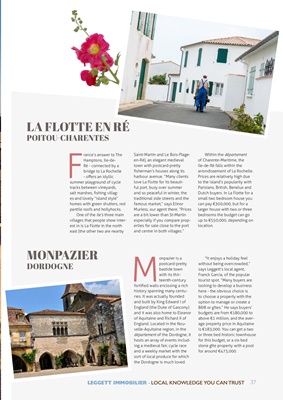 LEGGETT IMMOBILIER - LOCAL KNOWLEDGE YOU CAN TRUST 37
CREUSE €136,699 FAI
Montboucher. This stone house has
central heating as well as a wood burner.
3 double bedrooms with the potential for
a 4th.
Maison en pierres avec chauffage central et
poêle à bois. 3 chambres doubles avec la
possibilité d'en aménager une 4ème.
REF: 24469HP23
CREUSE €129,000 FAI
Ahun. This property is situated in a pretty
hamlet and surrounded by countryside.
Ready to move into, it also has an up-andrunning gite business.
Propriété située dans un charmant hameau
entouré par la campagne, aucun travaux à
prévoir. Activité de gîte existante.
REF: 31513JM23
HAUTE-VIENNE €88,000 FAI
15th century presbytery with walled
garden to renovate. Private garden and
great views.
Presbytère du 15ème siècle, avec un jardin
clos à rénover. Jardin privatif et magnifique
vue.
REF: 38753DB87
HAUTE-VIENNE €99,000 FAI
Renovated 6 bedroom village house with
outbuildings and garden. Great B&B business
opportunity in lively village.
Maison de village rénovée, 6 chambres,
avec dépendances et jardin. Belle opportunité de faire
un gîte, dans un village animé.
REF: 24089TB87
HAUTE-VIENNE €152,600 FAI
Renovated 3 bed stone house with
attached barn, and over 3 acres of land
surrounding the property.
Maison en pierres rénovée avec grange
attenante, sur plus d' 1,2 ha de terrain
entourant la propriété.
REF: 35965RP87
HAUTE-VIENNE €162,000 FAI
4 bedroom house to renovate with barn
and walled garden. Excellent location and
a superb balcony.
Maison de 4 chambres à rénover, avec
grange et jardin clos. Très bien située, avec
un superbe balcon.
REF: 23053CA87
HAUTE-VIENNE €267,500 FAI
4 bed maison de maître on the edge of a
bustling village. Great sized rooms and a
garden.
Maison de maître avec 4 chambres en bordure d'un village
animé. Pièces spacieuses,
avec un jardin.
REF: 41546SC87
HAUTE-VIENNE €349,800 FAI
6 beds in all. 2 bed house and 4 bedroom
B&B with café bar. Popular and lively town
of Le Dorat.
Un total de 6 chambres. Maison de 2
chambres, 4 chambres d'hôtes et un bar/
café. Dans le village populaire et animé du
Dorat.
REF: 24030CA87
INDRE €540,600 FAI
Brenne National Park. Stunning 8 bedroom
manor house with 10 acres of land
and a swimming pool. Grand, imposing
and in excellent condition.
Superbe maison de maître avec 4 ha de
terrain et une piscine. Propriété imposante
et majestueuse en parfait état.
REF: 34196RP36
LEGGETT MAGAZINE CENTRAL FRANCE