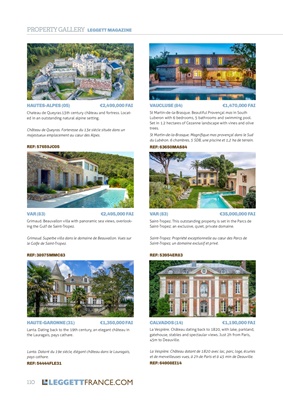 110
HAUTES-ALPES (05) €2,499,000 FAI
Chateau de Queyras.13th century château and fortress. Located in an outstanding natural
alpine setting.
Château de Queyras. Forteresse du 13e siècle située dans un
majestueux emplacement au cœur des Alpes.
REF: 57659JC05
VAUCLUSE (84) €1,470,000 FAI
St Martin-de-la-Brasque. Beautiful Provençal mas in South
Luberon with 6 bedrooms, 5 bathrooms and swimming pool.
Set in 1.2 hectares of Cezanne landscape with vines and olive
trees.
St Martin-de-la-Brasque. Magnifique mas provençal dans le Sud
du Lubéron. 6 chambres, 5 SDB, une piscine et 1,2 ha de terrain.
REF: 63650MAS84
VAR (83) €2,495,000 FAI
Grimaud. Beauvallon villa with panoramic sea views, overlooking the Gulf de Saint-Tropez.
Grimaud. Superbe villa dans le domaine de Beauvallon. Vues sur
le Golfe de Saint-Tropez.
REF: 38975MMC83
VAR (83) €35,000,000 FAI
Saint-Tropez. This outstanding property is set in the Parcs de
Saint-Tropez; an exclusive, quiet, private domaine.
Saint-Tropez. Propriété exceptionnelle au cœur des Parcs de
Saint-Tropez, un domaine exclusif et privé.
REF: 53954ER83
HAUTE-GARONNE (31) €1,350,000 FAI
Lanta. Dating back to the 19th century, an elegant château in
the Lauragais, pays cathare.
Lanta. Datant du 19e siècle, élégant château dans le Lauragais,
pays cathare.
REF: 54444FLE31
CALVADOS (14) €1,190,000 FAI
La Vespière. Château dating back to 1820, with lake, parkland,
gatehouse, stables and spectaular views. Just 2h from Paris,
45m to Deauville.
La Vespière. Château datant de 1820 avec lac, parc, loge, écuries
et de merveilleuses vues, à 2h de Paris et à 45 min de Deauville.
REF: 64908EI14
110
PROPERTY GALLERY LEGGETT MAGAZINE
LEGGETTFRANCE.COM