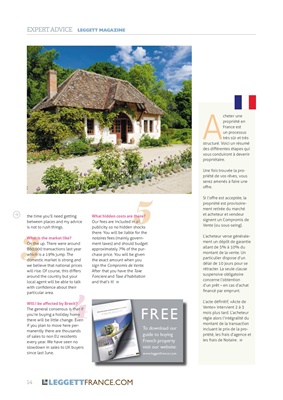 Karine Charriaud
is our Gérante
and the joint
head of our
contracts team
14
Y
ou may already know
where you want
to live. But before
committing, consider
climate, accessibility
and countryside. What about
sports facilities? Whether you
want to join in community
activities or are happy to 'go it
alone', make sure the local terrain
is suited to your needs. Do
you have children who'll need
schools? Check these facilities
are close by.
TYPE OF HOUSE
What kind of house do you envisage:
a character stone house
or an easy maintenance modern
home? Consider whether you're
prepared to take on a major
renovation project. Think about
the number of bedrooms and
garden size. Remember you'll
need to maintain the land. If
you're buying a holiday home
you'll want to be able to lock
up and leave without worrying
about it.
THE COSTS
In France, house prices consist
of three main elements: the
cost of the house, the agent's
commission and the notaire's
fee. Check these are included
in the quoted price. At Leggett
there are no hidden fees
or costs. We are a registered
French agent and our in-house
contracts team check all the
paperwork. We even employ a
qualified French notaire.
CHOOSING AN AGENT
When choosing an agent, easy
communication is important. All
Leggett agents know their
localities well. They can help
you with contacts and local
knowledge, and offer documentation in both English and
French. In addition to helping
you find your ideal property,
our agents guide you through
the negotiations and attend any
meetings with the local notaire.
EXPERT ADVICE LEGGETT MAGAZINE
Buying your
home in France
You've taken that big step to
follow your heart and buy a home
in France. Now it's time to use your
head. Karine Charriaud has helped
hundreds of buyers through the
legal process. Here are her tips to
make things go smoothly