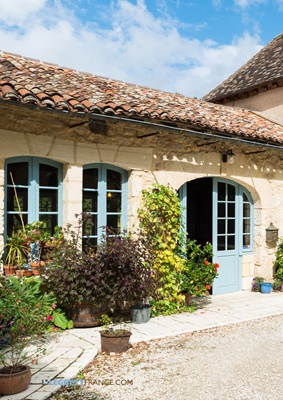 6
PEOPLE LEGGETT MAGAZINE
W
e like to
think that the
reason such a
distinguished
panel of judges voted
us the 'Best Estate
Agency in France' is because
we're special.
And we're special because
of the people we employ. Our
sales team of 220 agents across
France have expert knowledge
about their local areas. They
know the reputation of the
schools, the most sumptuous restaurants,
the prettiest
villages and, of course, the best
houses.
Our agents start their time
with Leggett by attending a
three-day, residential training course.
This is followed
by an on-the-job mentoring
programme and then further
advanced training at our head
office.
They are supported by our
award-winning head office
team. This includes experts
in law, sales & marketing, IT
and even our own qualified
notaire.  Foreign languages are
no problem to us either: our
sales support personnel speak
European languages as well as
Chinese and Russian.
Our executive team is
managed by Chief Executive
Graham Downie. Graham has
25 years of experience at the
highest level within Savills,
Chesterton International and
other blue chip agencies. Our
Chairman, Trevor Leggett, is a
well known industry figure who
is often sought out for market
comment by journalists and
property analysts.
Leggett Immobilier is, above
all, a family-run business. Both
Joanna and Natalie Leggett
work alongside Trevor, with
Joanna directing the marketing
side and Natalie heading the
sales support team.
We take pride in our work
and our agents are committed
to finding the best solution for
every single client. This personalised service
goes far beyond
the act of bringing the right
buyers and sellers into contact
with each other. We accompany
our customers throughout the
process and support them with
our professional services. Our
aim is to satisfy all the parties
involved. We like to think we
help customers to choose the
best alternatives and, of course,
make their dreams come true!
RIGHT
The contracts team
headed by Karine
Charriaud and Vicki
Randall
Team Leggett!
Behind every great company are a great team of people.
At Leggett Immobilier, our team of dedicated and
professional staff are always on hand to help you
through the buying and selling process. Here's your
chance to meet some of them
WORDS: HELEN HOLBROOK | PHOTOS: SARAH VERNON, CYRILLE MOINGEON
BELOW
CLOCKWISE
Sarah Edwards -
head of training and
recruitment, Joanna
Leggett - head of
marketing, the
sales support team,
headed by Natalie
Leggett