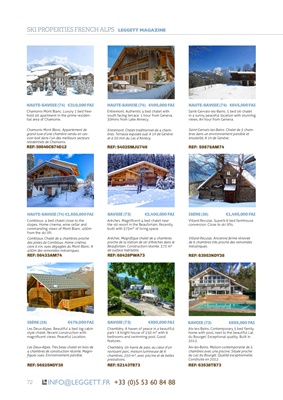 72
PROPERTY GALLERY LEGGETT MAGAZINE
LOT-ET-GARONNE €199,280 FAI
4 bedroom villa with swimming pool on
the outskirts of popular market town
Miramont in Lot-et-Garonne, with good
size gardens.
Villa de 4 chambres avec piscine à la
périphérie de la belle ville de
Miramont en Lot-et-Garonne.
REF: 41178SC47
HAUTE-GARONNE €315,000 FAI
Beautiful maison de maître with mountain
view, 5 rooms, outbuildings, nice garden
and bakery within walking distance. Near
Saint-Gaudens.
Maison de maître avec beaucoup de
charme, 5 chambres, dépendances, vue sur
les montagnes, près de Saint-Gaudens.
REF: 41504VDE31
GERS €229,000 FAI
Spacious 4 bedroomed farmhouse with
outbuildings and views of Gers countryside.
Maison avec cuisine équipée, salon, salle de
bain et WC, 4 chambres et salle d'eau.
REF: 41303KW32
HAUTES-PYRÉNÉES €390,000 FAI
Tostat. 3 bedroom village house with large
attached barn and courtyard.
Tostat. Maison de village avec 3 chambres,
grande grange et cour.
REF: 41658KW65
HAUTES-PYRÉNÉES €360,000 FAI
Tournay. Character home with 5 bedrooms,
pool and 2 bedroom gîte close to
Tourney. Ideal home or income generating
business.
Tournay. Maison indépendante avec
cinq chambres, piscine et gîte avec deux
chambres.
REF: 39356YJR65
GERS €220,000 FAI
Aux Aussat. Beautifully dressed 3 bedroom
home close to Mielan with
traditional features and large garden.
Aux Aussat. Maison de trois chambres avec
un joli jardin proche de Mielan.
REF: 34184YJR32
GIRONDE €530,000 FAI
A beautiful Girondine property close to St
Emilion. The house has been nicely renovated and has spacious rooms.
Très belle girondine située près de St Emilion. Rénovation
de qualité avec de beaux
volumes.
REF: 41419CH33
DORDOGNE €375,000 FAI
Beautifully renovated, large quintessential
French property that oozes charm. A mustsee for
lovers of old country farmhouses.
Close to the ever popular St Estephe
Lakes.
Ancienne ferme avec énormément de
charme et plus de 200 m² habitables.
REF: 35202JD24
DORDOGNE €189,000 FAI
Rustic style barn conversion plus
outbuilding on 1.2 ha close to Dordogne château town.
Includes 2 plots of
constructible land.
Maison de style rustique et dépendance,
terrain de 1,2 ha dont 2 parcelles avec CU
(1792 et 2361 m²). Près d'un village avec
un beau château.
REF: 41571JP24