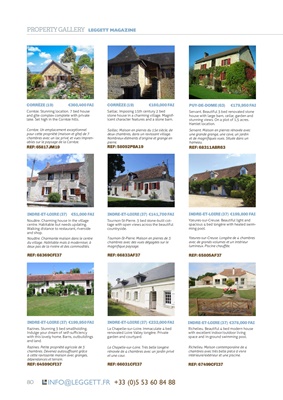 the necessary pictures to create a virtual
tour of your home. It's a great selling tool
on our website. We also have a bilingual,
in-house contracts team ready to assist
with the paperwork and work with the
notaires to guide you seamlessly through
the whole sales process.
MARKETING IS KEY
A picture says a thousand words. Make
sure your agent is taking the best possible high resolution
photographs on a
clear, sunny day. Ensure your property
looks as appealing as possible. If the
photos are really great, then it's far more
likely to be chosen for any marketing
initiative. At Leggett Immobilier, we
pride ourselves on our marketing and,
should you decide to work with us, we
will promote your property in a number
of different ways. We have one of the
busiest and most successful websites in
the French property market with around
11,500 listings at any one time. Each year
we receive around 1.5 million visitors
from over 200 countries worldwide. And
we have a specialist website dedicated
to our Prestige and Ski properties, as
well as mini-sites for the most popular
regions of France.
80
Selling or buying a property can be a stressful
affair. Here Joanna Leggett provides some great
advice on achieving a speedy sale and a good price
WORDS: JOANNA LEGGETT | PHOTOS: SHUTTERSTOCK, CYRILLE MOINGEON
Y
our home is probably perfect
in your eyes and you have
learned to live with, and
perhaps love, its quirks and
idiosyncrasies. But the time
has now come to up-size, downscale or
even quit the property market in France
altogether. Here are some top tips that
will save you time, money and stress.
FIRST IMPRESSIONS COUNT
A well presented house is far more
appealing to any potential buyer, and
will also let the agent know you intend
to be proactive about selling. Have a tidy
garden and make sure that the approach
sparkles, as should your interiors. Paint
the front door and check those little
DIY jobs are actually finished. Clean the
windows and remove your much loved
clutter.
PUTTING IT ON THE MARKET
Once you have selected an agent there
will be a preliminary visit so the agent
can explore the area, carry out an estimation of
value and collect all necessary
information in order to draft a legal
document entitled a 'mandat de vente'.
This is the mandate which authorises the
agency to sell on your behalf. The agent
will also obtain any other useful information or data which potential purchasers
may request. The agent will probably
want to take photographs of your
house at the same time. Here at Leggett
Immobilier we arrange for a time to take
Selling Houses
EXPERT ADVICE LEGGETT MAGAZINE
"The most important
thing is to find
an agent you trust
and price your
property correctly.
I always tell my
vendors that first
impressions count
so concentrate on
the approach to your
property and the
front door"
NICKY WYE IS ONE OF
OUR TOP SELLING
AGENTS