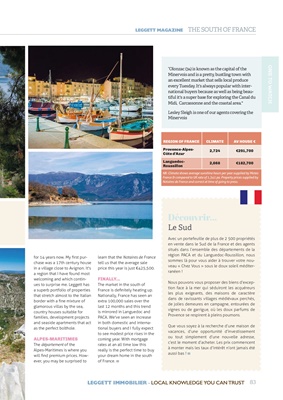 83
LEGGETT IMMOBILIER - LOCAL KNOWLEDGE YOU CAN TRUST
LEGGETT MAGAZINE THE SOUTH OF FRANCE
Photo: Anton_Ivanov
for 14 years now. My first purchase was a 17th century
house
in a village close to Avignon. It's
a region that I have found most
welcoming and which continues to surprise me.
Leggett has
a superb portfolio of properties
that stretch almost to the Italian
border with a fine mixture of
glamorous villas by the sea,
country houses suitable for
families, development projects
and seaside apartments that act
as the perfect bolthole.
ALPES-MARITIMES
The département of the
Alpes-Maritimes is where you
will find premium prices. However,
you may be surprised to
learn that the Notaires de France
tell us that the average sale
price this year is just €425,500.
FINALLY...
The market in the south of
France is definitely heating up.
Nationally, France has seen an
extra 100,000 sales over the
last 12 months and this trend
is mirrored in Languedoc and
PACA. We've seen an increase
in both domestic and international buyers
and I fully expect
to see modest price rises in the
coming year. With mortgage
rates at an all time low this
really is the perfect time to buy
your dream home in the south
of France.
Découvrir...
Le Sud
Avec un portefeuille de plus de 2 500 propriétés
en vente dans le Sud de la France et des agents
situés dans l'ensemble des départements de la
région PACA et du Languedoc-Roussillon, nous
sommes là pour vous aider à trouver votre nouveau
«  Chez Vous  » sous le doux soleil méditerranéen
!
Nous pouvons vous proposer des biens d'exception face
à la mer qui séduiront les acquéreurs
les plus exigeants, des maisons de caractère
dans de ravissants villages médiévaux perchés,
de jolies demeures en campagne, entourées de
vignes ou de garrigue, où les doux parfums de
Provence se respirent à pleins poumons.
Que vous soyez à la recherche d'une maison de
vacances, d'une opportunité d'investissement
ou tout simplement d'une nouvelle adresse,
c'est le moment d'acheter. Les prix commencent
à monter mais les taux d'intérêt n'ont jamais été
aussi bas  !
NB : Climate shows average sunshine hours per year supplied by Meteo
France & compared to UK rate of 1,341 pa. Property prices supplied by
Notaires de France and correct at time of going to press.
REGION OF FRANCE
CLIMATE
AV HOUSE €
Provence-AlpesCôte d'Azur
2,724 €291,700
LanguedocRoussillon
2,668 €182,700
"Olonzac (34) is known as the capital of the
Minervois and is a pretty, bustling town with
an excellent market that sells local produce
every Tuesday. It's always popular with international
buyers because as well as being beautiful it's
a super base for exploring the Canal du
Midi, Carcassonne and the coastal area."
Lesley Sleigh is one of our agents covering the
Minervois
ONE TO WATCH