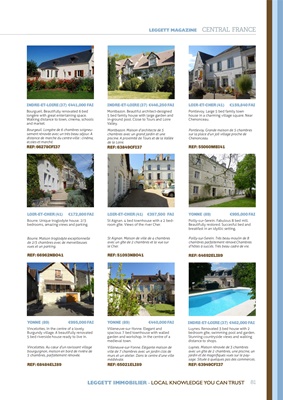 Our market-leading 'virtual tours'
enable visitors to our site to really understand the
layout and gardens of the properties we
have listed, leading to more
targeted viewings and less wasted time.
In fact we've sold properties here in
France to buyers from all over the world,
including South Africa and Australia, on
the strength of a virtual tour. It's a real
bonus tool for vendors.
For buyers searching through the
leading property portals, we advertise
on international sites such as Rightmove
Overseas, Greenacres, The Move Channel
and Lux Residence.
Our strong relationship with the
property media extends internationally
and we regularly appear in newspapers
and magazines in France, the UK and
around the world. They include The
Daily Telegraph, Financial Times, Wall
Street Journal, Living France, Country Life
International and French Property News
to name a few. We maintain a strong
presence at specialist international
property exhibitions in the UK, France
and Belgium. These include A Place in
the Sun Live and The France Show, where
we always exhibit and are often asked
to host seminars on buying and selling
property in France. We also have a terrific
partnership with Hamptons International
in the UK and a selection of other partners
around the world, giving us access
to an even wider range of potential
purchasers for your property.
DIAGNOSTIC TESTS
The sale of your property cannot be completed until you
have commissioned and
received the results of several diagnostic
tests. A 'Diagnostique de Performance Energétique'
(Energy Saving Technical Data)
is compulsory for anyone wishing to rent
or sell a house. This must be completed
before the property can be advertised, at
the mandate stage, and it is required to
be shown on all advertisements. All the
other diagnostics need to be carried out
and completed before the preliminary
sale agreement 'Compromis de Vente' is
signed. These tests include checking the
gas and electrics, tests for lead, asbestos
and termites and tests of your drainage/
septic tank. Leggett Immobilier assist clients greatly
in this area by organising the
prompt implementation of
these tests on your behalf,
using trusted local experts at a
competitive price.
AN OFFER IS MADE
When you accept an offer on
your property, a 'Compromis
de Vente' will be drawn up.
You should ensure any terms
you want included are in the
contract. The purchaser must be
clear about what is and what is
not included in the sale and which
items stay - such as the dishwasher or even
the garden swing. Once
you have signed the sales agreement you
are fully committed to the sale.
THE ROLE OF THE NOTAIRE
Normally the purchaser instructs a
notaire who will work for both parties.
However as vendor you are entitled to
use your own notaire and the fee will be
split between you-. A notaire does not
represent the interests of either party
and it should be noted their role is not
the same as a British solicitor. Under
French law, the transfer deed, 'acte authentique', which
transfers the property
to the purchaser at completion, must be
completed by a notaire. It is the purchaser who pays the fee
for this service.
It would be unwise to assume the
notaire will speak anything but French.
At Leggett Immobilier, we have an inhouse bilingual contracts
team who will
be able to assist you throughout the sale
and purchase process.
FINAL STEPS...
Help your chosen agent to do his
or her job. Be agreeable to 'short
notice' viewings. While we try
not to impose, in our experience
the most demanding clients are
sometimes the most serious.
And, unless requested, it's best
to leave the viewing to the professionals.
Most buyers won't
be interested in every last detail
of the house - no matter how proud you
are!
For more information on selling your
house in France please visit our website
info@leggett.fr title="Visit www.leggettfrance.com">www.leggettfrance.com or contact
info@leggett.fr to be put in touch with
your local Leggett agent.
LEGGETT IMMOBILIER - LOCAL KNOWLEDGE YOU CAN TRUST 81
"Get all of your
paperwork in order
and have your
diagnostic tests
carried out when
you put your house
on the market. That
way you are in a
strong position to
negotiate and won'tracey@leggett.frny nasty
surprises"
TRACEY HUDSON
SALES DIRECTOR
tracey@leggett.fr
VENDRE SA MAISON
Comment s'y prendre ?
La première impression est essentielle. Assurez-vous que votre propriété
soit dans le meilleur état possible. Faites le nécessaire pour que l'extérieur
soit aussi attrayant que l'intérieur. Choisissez bien votre agent immobilier.
De ce choix dépendra le bon déroulement et la rapidité de la vente. Vous
pouvez vous fier au bouche-à-oreille, mais posez-vous bien la question de
savoir quels moyens l'agent pourra mettre en oeuvre pour promouvoir
votre propriété.
Le marketing est la clé du succès !
Leggett est très fier de son marketing. Nos sites web reçoivent plus de 1,5
millions de visiteurs chaque année, en provenance de plus de 200 pays !
Notre système unique de visites virtuelles permet à nos clients, partout
dans le monde, de se faire une idée précise du bien. Il s'agit d'un important
gain de temps pour les acheteurs et d'un véritable bonus pour les vendeurs.
Leggett est aussi présent sur les principaux portails internet, dans la presse
française et britannique et lors des grands salons de l'immobilier. Nous
avons établi des partenariats partout dans le monde, nous permettant de
faire connaitre votre bien à un réseau de clients encore plus étendu.