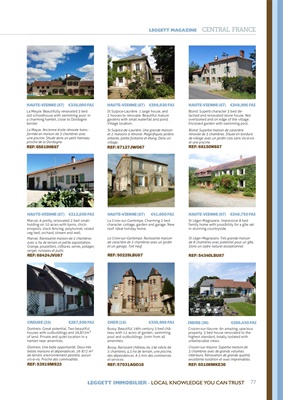 LEGGETT IMMOBILIER - LOCAL KNOWLEDGE YOU CAN TRUST 77
Immaculate, restored 12th century château
offering luxurious, elegant living within part
of this medieval and renaissance château.
The grand hall and adjoining room feature
two of the finest marble fireplaces in
France. The château is in a village hilltop
position, very private, within extensive
walled grounds. One of a kind.
Magnifique château d'origine médiévale
et renaissance, comprenant deux des plus
belles cheminées de France. Situé en position
dominante avec vues exceptionnelles.
12TH CENTURY CHÂTEAU / CHÂTEAU DU 12ÈME SIÈCLE
LOT-ET-GARONNE - PRICE ON APPLICATION
REF: 24423CJ47
LEGGETT MAGAZINE PRESTIGE PROPERTY