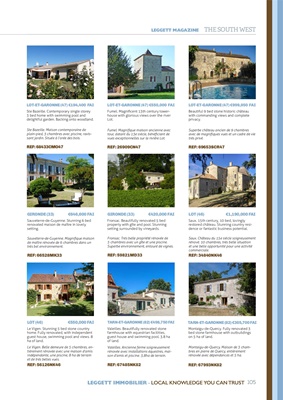 105
GIRONDE (33) €646,600 FAI
Sauveterre-de-Guyenne. Stunning 6 bed
renovated maison de maître in lovely
setting.
Sauveterre-de-Guyenne. Magnifique maison
de maître rénovée de 6 chambres dans un
très bel environnement.
REF: 66528MK33
GIRONDE (33) €420,000 FAI
Fronsac. Beautifully renovated 5 bed
property with gîte and pool. Stunning
setting surrounded by vineyards.
Fronsac. Très belle propriété rénovée de
5 chambres avec un gîte et une piscine.
Superbe environnement, entouré de vignes.
REF: 59821MD33
LOT (46) €1,190,000 FAI
Saux. 15th century, 10 bed, lovingly
restored château. Stunning country residence
or fantastic business potential.
Saux. Château du 15e siècle soigneusement
rénové. 10 chambres, très belle situation
et une belle opportunité pour une activité
commerciale.
REF: 34840NK46
LOT (46) €550,000 FAI
Le Vigen. Stunning 5 bed stone country
home. Fully renovated, with independent
guest house, swimming pool and views. 8
ha of land.
Le Vigen. Belle demeure de 5 chambres, entièrement rénovée
avec une maison d'amis
indépendante, une piscine, 8 ha de terrain
et de très belles vues.
REF: 56126NK46
TARN-ET-GARONNE (82) €498,750 FAI
Valeilles. Beautifully renovated stone
farmhouse with equestrian facilities,
guest house and swimming pool. 3.8 ha
of land.
Valeilles. Ancienne ferme soigneusement
rénovée avec installations équestres, maison d'amis et piscine. 3,8ha de terrain.
REF: 67485NK82
TARN-ET-GARONNE (82) €365,700 FAI
Montaigu-de-Quercy. Fully renovated 3
bed stone farmhouse with outbuildings
on 5 ha of land.
Montaigu-de-Quercy. Maison de 3 chambres en pierre de Quercy,
entièrement
rénovée avec dépendances et 5 ha.
REF: 67993NK82
LOT-ET-GARONNE (47) €194,400 FAI
Ste Bazeille. Contemporary single storey
3 bed home with swimming pool and
delightful garden. Backing onto woodland.
Ste Bazeille. Maison contemporaine de
plain-pied, 3 chambres avec piscine, ravissant jardin. Située à l'orée des bois.
REF: 68433CMO47
LOT-ET-GARONNE (47) €550,000 FAI
Fumel. Magnificent 13th century towerhouse with glorious views
over the river
Lot.
Fumel. Magnifique maison ancienne avec
tour, datant du 13e siècle, bénéficiant de
vues exceptionnelles sur la rivière Lot.
REF: 26909CN47
LOT-ET-GARONNE (47) €999,950 FAI
Beautiful 9 bed stone historic château
with commanding views and complete
privacy.
Superbe château ancien de 9 chambres
avec de magnifiques vues et un cadre de vie
très privé.
REF: 69653SCR47
105105
LEGGETT MAGAZINE THE SOUTH WEST
LEGGETT IMMOBILIER - LOCAL KNOWLEDGE YOU CAN TRUST