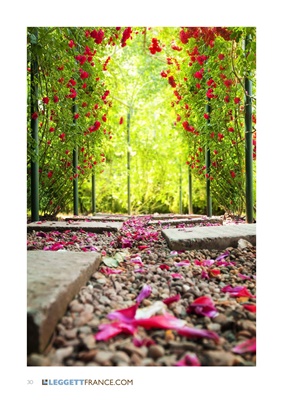 30
PROPERTY GALLERY LEGGETT MAGAZINE
FINISTÈRE €239,995 FAI
An excellent 4 bedroom house situated in
an elevated position providing panoramic
views of the port and in walking distance
of beach.
Maison de 4 chambres, en position dominante, avec vues panoramiques
sur le port.
Près des plages.
REF: 36243PK29
PAS-DE-CALAIS €183,600 FAI
Large farmhouse with gîtes and bed &
breakfast business in the Seven Valleys,
ideal for investment or family living.
Ancienne ferme rénovée avec gîtes et
chambres d'hôtes. Située dans le Pays des
7 Vallées. Potentiel commercial ou grande
maison familiale.
REF: 40805TS62
SEINE-MARITIME €267,500 FAI
15 min Dieppe, 1hr45 Calais and 2hrs
from Paris. Ideal home for a family or a
holiday home to explore the stunning
Cote d' Albatre of northern France.
A 15 min de Dieppe, à 1h45 de Calais et
à 2h de Paris. Belle maison familiale ou
résidence secondaire idéale pour découvrir
la fabuleuse Côte d'Albâtre du nord de la
France.
REF: 42038TS76
PAS-DE-CALAIS €636,000 FAI
Beautiful 4 bed home and spectacular two
bed gîte set in over 3 acres of manicured
gardens with a bridge across the mill-race
to a pasture and potential building plot.
Belle maison de 4 chambres avec un ravissant gîte de 2 chambres, un jardin de 1,2 ha
et un pont traversant un ruisseau menant à
des pâturages et à un terrain constructible.
REF: 41778TS62
SOMME €141,700 FAI
Beautiful manor house with timbered
barn, all in need of renovation, in the
stunning Picardie countryside.
Magnifique manoir avec grange à colombages, à rénover,
dans la belle campagne
picarde.
REF: 41413TS80
PAS-DE-CALAIS €625,400 FAI
Set in the Seven Valleys, less than an
hour from Calais. 18th Century maison
de maître tastefully restored to its former
glory.
Dans le Pays des 7 Vallées, à moins d'1h
de Calais, la « Maison de Plumes » est une
maison de maître exceptionnelle, restaurée
avec goût, ayant retrouvé sa splendeur
d'antan.
REF: 42152TS62
CÔTES-D'ARMOR €119,900 FAI
Mellionnec. Beautiful and roomy house
located in a village named 'European
village of culture,' an up and coming area.
Mellionnec. Belle maison spacieuse située
dans un village dynamique nommé «
village culturel d'Europe ».
REF: 34074BG22
CÔTES-D'ARMOR €256,800 FAI
Lescouët-Gouarec. Beautifully presented
stone property with barn standing in over
2 hectares of land, 1.6 hectares of which
is woodland.
Lescouët-Gouarec. Belle propriété, maison
en pierres avec grange sur plus de 2 ha de
terrain, dont 1,6 ha de bois.
REF: 40007TK22
CÔTES-D'ARMOR €251,450 FAI
Bréhand. Let yourself be charmed by this
4 bed house with a hectare of land, stables and tack room.
30min from the coast.
Bréhand. Laissez-vous séduire par cette
maison de 4 chambres avec 1 ha de terrain,
une écurie et une sellerie, à 30 min de la
côte.
REF: 41464PZ22