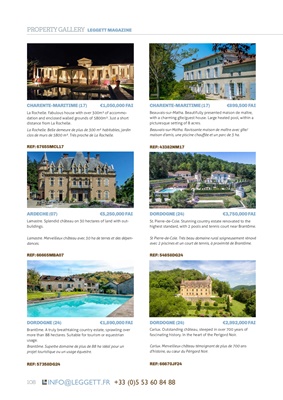 CHARENTE-MARITIME (17) €1,050,000 FAI
La Rochelle. Fabulous house with over 300m² of accommodation and enclosed walled grounds
of 5800m². Just a short
distance from La Rochelle.
La Rochelle. Belle demeure de plus de 300 m² habitables, jardin
clos de murs de 5800 m². Très proche de La Rochelle.
REF: 67655MCL17
CHARENTE-MARITIME (17) €899,500 FAI
Beauvais-sur-Matha. Beautifully presented maison de maÎtre,
with a charming gÎte/guest house. Large heated pool, within a
picturesque setting of 8 acres.
Beauvais-sur-Matha. Ravissante maison de maître avec gîte/
maison d'amis, une piscine chauffée et un parc de 3 ha.
REF: 43382NM17
ARDECHE (07) €5,250,000 FAI
Lamastre. Splendid château on 30 hectares of land with outbuildings.
Lamastre. Merveilleux château avec 30 ha de terres et des dépendances.
REF: 66665MBA07
DORDOGNE (24) €3,750,000 FAI
St. Pierre-de-Cole. Stunning country estate renovated to the
highest standard, with 2 pools and tennis court near BrantÔme.
St Pierre-de-Cole. Très beau domaine rural soigneusement rénové
avec 2 piscines et un court de tennis, à proximité de Brantôme.
REF: 54858DG24
DORDOGNE (24) €1,890,000 FAI
BrantÔme. A truly breathtaking country estate, sprawling over
more than 88 hectares. Suitable for tourism or equestrian
usage.
Brantôme. Superbe domaine de plus de 88 ha idéal pour un
projet touristique ou un usage équestre.
REF: 57358DG24
DORDOGNE (24) €2,992,000 FAI
Carlux. Outstanding château, steeped in over 700 years of
fascinating history. In the heart of the Perigord Noir.
Carlux. Merveilleux château témoignant de plus de 700 ans
d'histoire, au cœur du Périgord Noir.
REF: 66670JF24
108
PROPERTY GALLERY LEGGETT MAGAZINE
info@leggett.fr +33 (0)5 53 60 84 88