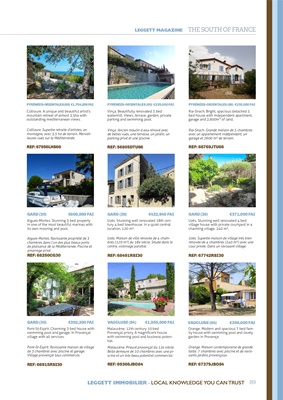 GARD (30) €800,000 FAI
Aigues-Mortes. Stunning 3 bed property
in one of the most beautiful marinas with
its own mooring and pool.
Aigues-Mortes. Ravissante propriété de 3
chambres dans l'un des plus beaux ports
de plaisance de la Méditerranée. Piscine et
amarrage privé.
REF: 68250CG30
GARD (30) €422,940 FAI
Uzès. Stunning well renovated 18th century 4 bed townhouse.
In a quiet central
location. 120 m².
Uzès. Maison de ville rénovée de 4 chambres (120 m²) du 18e siècle. Située dans le
centre, voisinage paisible.
REF: 68491RSI30
GARD (30) €371,000 FAI
Uzès. Stunning well renovated 4 bed
village house with private courtyard in a
charming village. 240 m².
Uzès. Superbe maison de village très bien
rénovée de 4 chambres (240 m²) avec une
cour privée. Dans un ravissant village.
REF: 67742RSI30
GARD (30) €392,200 FAI
Pont-St-Esprit. Charming 3 bed house with
swimming pool and garage. In Provençal
village with all services.
Pont-St-Esprit. Ravissante maison de village
de 3 chambres avec piscine et garage.
Village provençal tous commerces.
REF: 66915RSI30
VAUCLUSE (84) €1,950,000 FAI
Malaucène. 12th century 10 bed
Provençal priory. A magnificent house
with swimming pool and business potential.
Malaucène. Prieuré provençal du 12e siècle.
Belle demeure de 10 chambres avec une piscine et un très beau
potentiel commercial.
REF: 69366JBO84
VAUCLUSE (84) €399,000 FAI
Orange. Modern and spacious 7 bed family house with swimming pool and lovely
garden in Provençe.
Orange. Maison contemporaine de grande
taille. 7 chambres avec piscine et de ravissants jardins provençaux.
REF: 67379JBO84
PYRÉNÉES-ORIENTALES (66) €1,764,000 FAI
Collioure. A unique and beautiful artist's
mountain retreat of almost 3.5ha with
outstanding mediterranean views.
Collioure. Superbe retraite d'artistes, en
montagne, avec 3,5 ha de terrain. Merveil-
leuses vues sur la Méditerranée.
REF: 67956LHS66
PYRÉNÉES-ORIENTALES (66) €335,000 FAI
Vinça. Beautifully renovated 3 bed
watermill. Views, terrace, garden, private
parking and swimming pool.
Vinça. Ancien moulin à eau rénové avec
de belles vues, une terrasse, un jardin, un
parking privé et une piscine.
REF: 56805DTU66
PYRÉNÉES-ORIENTALES (66) €335,000 FAI
Ria-Sirach. Bright, spacious detached 5
bed house with independent apartment,
garage and 2,600m2 of land.
Ria-Sirach. Grande maison de 5 chambres
avec un appartement indépendant, un
garage et 2600 m² de terrain.
REF: 66769JTU66
89
LEGGETT MAGAZINE THE SOUTH OF FRANCE
LEGGETT IMMOBILIER - LOCAL KNOWLEDGE YOU CAN TRUST