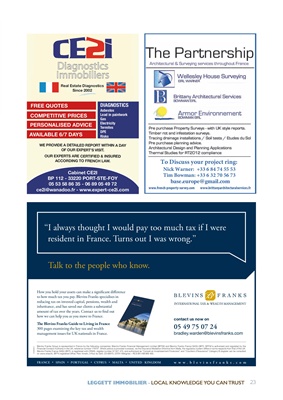 LEGGETT IMMOBILIER - LOCAL KNOWLEDGE YOU CAN TRUST 23
LEGGETT MAGAZINE EXPERT ADVICE
are as tax efficient as possible
in the French system. It is vital
that any investment product
or scheme you hold, or intend
to purchase, outside France
should be suitable for France.
This is not easy to achieve.
If you are retiring in France,
your pension arrangements are
of utmost importance.
Siddalls can advise on all
aspects of retirement planning.
We can review all your pension
arrangements and provide
holistic advice. We ensure that
your capital and pensions are
tailored to suit your needs
and circumstances as French
residents, and that they work in
unison to achieve your target
income.
WHY SIDDALLS?
We have over 18 years of experience
in France. In this time, we
have seen many changes in the
laws and helped many individuals with all sorts of
financial
planning issues. Our staff are
on the ground and receive
regular training. We are always
up to date with any changes in
the laws, which means we can
give the best financial planning
advice to meet your personal
needs.
If you have any specific questions, please
contact our head
office on +33 (0)5 56 34 75 51
so we can put you in touch with
your local advisor or, e-mail
Website: www.siddalls.net
Facebook: www.facebook.com/siddalls
Blog: http://siddalls.wordpress.com
FOR FURTHER INFORMATION