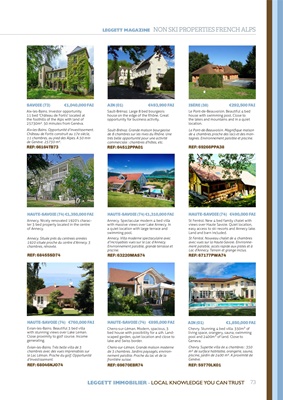 LEGGETT IMMOBILIER - LOCAL KNOWLEDGE YOU CAN TRUST
PROPRIÉTÉS DE PRESTIGE ET PROPRIÉTÉS À L'INTERNATIONAL
Les medias ont insisté longuement sur la fuite des grandes fortunes françaises
à cause des nouvelles lois fiscales promulguées par le gouvernement actuel.
Cela a provoqué la mise sur le marché d'un grand nombre de propriétés de
prestige entrainant une baisse des prix. L'optimisme du marché européen et
l'assouplissement de la règlementation des retraites au Royaume Uni a créé une
nouvelle demande de belles demeures en France, principalement de la part des
nouveaux retraités.
Si vous cherchez un château majestueux, un superbe chalet dans les Alpes, une
villa méditerranéenne ou un vignoble de renom dans le Bordelais, n'hésitez
pas à faire appel à Leggett Prestige. Nous avons un large choix de propriétés à
vous offrir dont un grand nombre exclusivement sur liste privée. Notre équipe,
dédiée aux propriétés internationales, peut aussi vous proposer des biens aux
Etats-Unis et à Saint-Barth.
VOUS SOUHAITEZ VENDRE ? Leggett assure une visibilité incomparable à votre
propriété en France et au-delà de nos frontières.
Votre contact : janeberry@leggett.fr
73
T
he top end of the French
property market has been
hit by President Hollande's
policies, and international
buyers are now beginning
to enter the market in force. With the
UK market back on its feet and cheap
financing available, we are optimistic
that our Prestige department will see
record sales this year.
BUY OR SELL
Leggett Prestige has a fabulous
portfolio of hand picked properties
enticing buyers from all over the world
to make an investment in the current
French market. If you're looking to sell
your property, there is no better way
than through Leggett Prestige. With
an extensive database of registered
buyers and our experience of marketing
high value properties, you will
find that the team at Leggett Prestige
offer a bespoke, friendly and efficient
service. No other French estate agency
offers your property the same level of
worldwide exposure.
VIRTUAL TOUR
We include a Virtual Tour to complement high-res
photos as well as
the possibility for your property to
feature in the Financial Times House
& Home edition and in Country Life
International. These publications are
renowned for showcasing the most
prestigious and sought after properties in the world.
HUGE PORTFOLIO
If you are looking to buy, we have
many hundreds of exceptional properties for
sale across France. From classic
French châteaux and ski chalets to
villas overlooking the turquoise waters
of the Mediterranean sea. We also have
a number of 'discreet listings'. These
are properties that are 'off
market' for vendors and buyers who
really appreciate the need for
discretion.
Buying & Selling
PRESTIGE PROPERTY For more information on prestige
properties, contact Jane Berry
at prestige@leggett.fr or telephone
+33 (0)6 89 19 66 77 or visit our site
Jane Berry provides some useful advice when
buying and selling prestige property
Demand is high. We
have Chinese clients
ready to buy properties
up to €50m euros.
Last year, 15% of total
sales in the Gironde were
to Chinese clients,
involvinchantal@leggett.fr
525 hectares of vines
CHANTAL NOLLET
BORDEAUX VINEYARD TEAM
chantal@leggett.fr