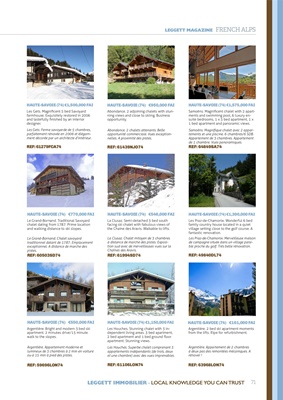 LEGGETT IMMOBILIER - LOCAL KNOWLEDGE YOU CAN TRUST 71
DORDOGNE €399, 000 FAI
Ensemble of authentic buildings around
an attractive courtyard. Farmhouse 3 beds;
guest cottage 2 beds; large barn; pool; 2
acres of meadow and woodland.
Ferme authentique comprenant maison,
gîte, grande grange et piscine, située dans
1 ha de terrain avec des belles vues près de
Rouffignac en Perigord Noir.
REF: 30813JF24
LOT-ET-GARONNE €475,000 FAI
Beautifully renovated 6 bedroom house
with pool and over 16 acres of pastureland. On the outskirts of
a small village
between Bergerac and Bordeaux airports.
Magnifique propriété rénovée avec piscine,
et plus de 6 hectares de terrain située à
la périphérie d'un petit village près de
Marmande entre les aéroports de Bergerac
et Bordeaux.
REF: 41641JV47
GIRONDE €1,484,000 FAI
A magnificent chartreuse on the riverside,
surrounded by a park of 1 ha, near St.
Emilion. Completely renovated with
beautiful original features.
Une vraie beauté ! Chartreuse à l'allure de
château sur un parc de 1 ha, située dans la
région de St. Emilion.
REF: 25856MK33
GIRONDE €636,000 FAI
Magnificent maison de maître in the heart
of a village just 10 km from St Emilion.
Magnifique maison de maître au coeur d'un
village à 10 km de St Emilion.
REF: 31170CJ33
GIRONDE €135,000 FAI
A charming property in a lovely setting
comprising 3 bedrooms, fitted kitchen,
bathroom, WC, living room and utility
room.
Propriété de charme comprenant une
cuisine spacieuse, un salon avec cheminée,
un cellier, trois chambres, une salle d'eau
récente et un wc.
REF: 34237CAH33
LOT-ET-GARONNE €595,000 FAI
A rare find! This absolute gem of a property has 5 bedrooms,
gorgeous split-level
living room and bespoke farmhouse
kitchen.
Un bien rare ! Cette propriété est un véritable
bijou avec 5 chambres, salon/salle
à manger et cuisine. Située sur une route
non-passante.
REF: 34442JLS24
GIRONDE €381,600 FAI
Beautiful character house in amazing
setting, surrounded by vineyards. 4 bedrooms,
pool, bags of charm. Near Blaye.
Belle maison de campagne, cadre
magnifique, entourée de vignes. 4 chambres, piscine, beaucoup
de charme. Près de
Blaye.
REF: 38758MD33
GIRONDE €515,000 FAI
Stunning mansion beautifully renovated
with park of 2500m².
Prestigieuse demeure du 19ème, entièrement rénovée
avec parc d'environ 2500 m².
REF: 39185CN33
LOT-ET-GARONNE €299,600 FAI
Attractive stone house, barns and garden
in stunning situation with views over
Garonne valley.
Jolie longère en pierre avec 2 granges,
installations éco-énergétiques, et point de
vue magnifique.
REF: 39951HA47
LEGGETT MAGAZINE SOUTH WEST FRANCE