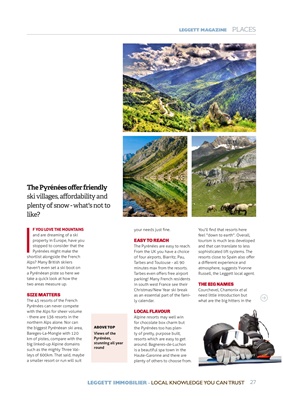 LEGGETT IMMOBILIER - LOCAL KNOWLEDGE YOU CAN TRUST
NB : Climate shows average sunshine hours per year supplied by Meteo
France & compared to UK rate of 1,341 pa. Property prices supplied by
Notaires de France and correct at time of going to press.
REGION OF FRANCE
CLIMATE
AV HOUSE €
Brittany 1,717 €155,000
Lower Normandy 1,691 €134,000
Upper Normandy 1,684 €155,000
Nord-Pas-de-Calais 1,617 €143,000
Picardy 1,679 €147,000
Paris Île-de-France 1,661 €301,000
Stunning coastline
Amiens
27
Higher Normandy is dominated
by Rouen, one of the largest
and most prosperous cities
of Medieval Europe. Visitors
flock from all over the world to
see the Notre Dame cathedral
and the famous Rouen castle.
Access from Dieppe or Le Havre
is easy and you'll find property
prices rising as you get closer
to Paris and the Île-de-France.
I also have to admit a
sneaking feeling of jealousy
for my neighbouring agents in
Normandy, who get to sell some
of the most architecturally
stunning houses. The timbered
and thatched farmhouses are
'chocolate box pretty' and it's
the same with some of the
townhouses you find in the historic quarters
of the towns and
villages. This is French architecture
at its very best.
PARIS & PICARDY
I'm not sure what to say about
Paris that hasn't been said
before: 17million international
visitors a year, 3,800 historical
monuments, 4 UNESCO world
heritage sites and the Eiffel
Photo : Massimiliano Pieraccini
Tower. The property market
remains buoyant and it is
rivalled only by London as the
European home for the global
super-rich. One apartment
we've been marketing, directly overlooking
the Louvre, is
just about as prime a property
as you will find anywhere in
France.
Moving north to Picardy
you can't help but be touched
by the series of battles fought
along the Somme in World War
One. Today, Picardy is often
forgotten by UK buyers, who
either stay in the Pas-deCalais
or cruise down the A1
autoroute as they plan their
journey south. This is a shame
as it's a region with much to
offer beside its history and
accessibility.
NORD-PAS-DE-CALAIS
Finally we have the Nord-Pasde-Calais,
home to over 4 million people and to the Eurostar
terminal in Lille, while the port
of Calais is just 34 km from
England. Not everyone shoots
off down the autoroute though.
Many seek holiday homes
that can be used as weekend
retreats, and the area around
the beautiful golf courses of
Le Touquet and Hardelot are
particularly popular. These are
some of the top golf courses in
France and property here is a
fraction of the cost that you'd
find a few miles north in the
south east of England.
So there we have it, a
whistle stop tour of six regions.
Hopefully the portfolio of
properties we have chosen to
highlight over the next few
pages will give you a flavour of
the landscape and culture you'll
experience when you come to
visit us. You'll find bargain
properties and barns to
renovate, country houses and
seaside apartments. The one
thing they all have in common,
though, is that they're superbly
located for trips back to the UK.
Property experts always say
"location, location, location"
and this selection has that in
spades. Happy hunting!
"Look at
property in
and around
Bocage in the
département of
Calvados. It gives
easy access to
the coast aswell
as Paris.
Property values
are around 6%
lower than in
similar parts of
Normandy and
there is so much
to do. Lakes,
forests, golf
courses, horse
riding trails and
boating - the
whole region is
wonderful but I
find Bocage a bit
special"
Emma Nicholson is
area coordinator
for Normandy.
E: emma@leggett.fr ONE TO WATCH