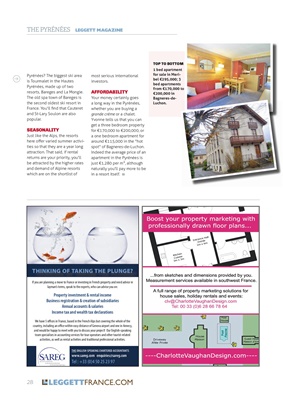 28
PROPERTY GALLERY LEGGETT MAGAZINE
CÔTES-D'ARMOR €26,000 FAI
Mael Pestivien. This stone cottage with
stunning views from the garden is excellent
value and has great potential to
create a 2 bed home.
Maël-Pestivien. Maison en pierres avec de
belles vues sur le jardin. Emplacement idéal
et potentiel pour la création d'une maison
de 2 chambres.
REF: 41180SM22
CÔTES-D'ARMOR €48,500 FAI
La Motte. Amazing bargain! 3 bedroom
detached bungalow, 1000m² land, ideal
holiday home in quiet hamlet close to the
centre of Brittany.
La Motte. Belle opportunité ! Maison
indépendante de plain-pied. 3 chambres et
1000 m² de terrain. Une résidence secondaire idéale
dans un hameau paisible.
REF: 34969DH22
CÔTES-D'ARMOR €66,000 FAI
St Goueno. Wonderful elevated position
with amazing views, 3 bedrooms, double
glazed, good size garden, separate annexe
to renovate.
St-Gouéno. En position dominante avec de
belles vues. 3 chambres, double-vitrage,
ravissant jardin avec annexe indépendante
à rénover.
REF: 40737MLG22
CÔTES-D'ARMOR €97,500 FAI
Moncontour de Bretagne. Well renovated 3 bed home with garage
and pretty
courtyard garden in one of Brittany's most
delightful medieval villages.
Moncontour de Bretagne. Maison rénovée
de 3 chambres, garage et joli jardin clos,
dans l'un des charmants villages médiévaux
bretons.
REF: 42427LG22
ILLE-ET-VILAINE €235,400 FAI
Maure de Bretagne. A detached 4 bedroom
family home with gas central heating,
a lovely garden and open countryside
views.
Maure de Bretagne. Maison indépendante de 4 chambres, chauffage
central au
gaz, beau jardin avec vue dégagée sur la
campagne.
REF: 33019JP35
MORBIHAN €93,500 FAI
Bréham. Habitable, advanced project
requires a little finishing/tlc. Well situated
between two villages, a short distance
from the Nantes-Brest canal.
Bréham. Maison habitable, finitions à
prévoir. Bien située, entre deux villages,
proche du canal Brest-Nantes.
REF: 41364BVS56
MORBIHAN €311,900 FAI
Noyal Muzillac. A brand new home built
to high specifications on a generous plot,
bright and airy with large rooms, suitable
for a wheelchair user.
Construction neuve très haut de gamme
sur une grande parcelle. Beaux volumes
lumineux et aérés. Conviendrait à une
personne en fauteuil roulant.
REF: 40742PV56
LOIRE-ATLANTIQUE €152,600 FAI
Campbon. Transport links combined with
land make this an interesting purchase.
The big city is a short drive from this rural
home with countryside views.
Campbon. Avec terrain et accès rapide au
réseau de communications. Maison située
à la campagne dans un bel environnement,
proche d'une grande ville.
REF: 39706PH56
CÔTES-D'ARMOR €158,760 FAI
Pommerit le Vicomte. Delightful stone
longere with potential to develop further.
Edge of village location, walking distance
to shops and views over fields.
Pommerit le Vicomte. Charmante longère
en pierres avec potentiel d'extension. En
bordure de village, proche tous commerces,
entourée de champs.
REF: 39615TM22