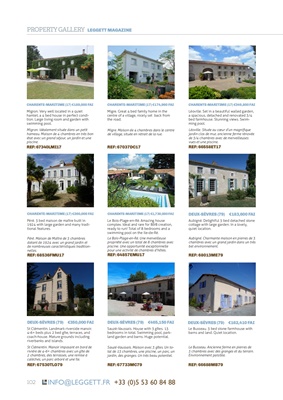 102
PROPERTY GALLERY LEGGETT MAGAZINE
CHARENTE-MARITIME (17) €260,000 FAI
Péré. 3 bed maison de maître built in
1924 with large garden and many traditional features.
Péré. Maison de Maître de 3 chambres
datant de 1924 avec un grand jardin et
de nombreuses caractéristiques traditionnelles.
REF: 68536FMU17
CHARENTE-MARITIME (17) €1,730,000 FAI
Le Bois-Plage-en-Ré. Amazing house
complex. Ideal and rare for B&B creation,
ready to run! Total of 8 bedrooms and a
swimming pool on the Ile-de-Ré.
Le Bois-Plage-en-Ré. Une merveilleuse
propriété avec un total de 8 chambres avec
piscine. Une opportunité exceptionnelle
pour une activité de chambres d'hôtes.
REF: 64857EMU17
DEUX-SÈVRES (79) €183,600 FAI
Aubigné. Delightful 3 bed detached stone
cottage with large garden. In a lovely,
quiet location.
Aubigné. Charmante maison en pierres de 3
chambres avec un grand jardin dans un très
bel environnement.
REF: 68013ME79
DEUX-SÈVRES (79) €350,000 FAI
St Clémentin. Landmark riverside manoir.
4-6+ beds plus 2 bed gîte, terraces, and
coach-house. Mature grounds including
riverbanks and islands.
St Clémentin. Manoir imposant en bord de
rivière de 4-6+ chambres avec un gîte de
2 chambres, des terrasses, une remise à
calèches, un parc arboré et une île.
REF: 67530TLO79
DEUX-SÈVRES (79) €465,150 FAI
Sauzé-Vaussais. House with 3 gîtes. 13
bedrooms in total. Swimming pool, parkland garden
and barns. Huge potential.
Sauzé-Vaussais. Maison avec 3 gîtes. Un total
de 13 chambres, une piscine, un parc, un
jardin, des granges. Un très beau potentiel.
REF: 67733MC79
DEUX-SÈVRES (79) €162,410 FAI
Le Busseau. 3 bed stone farmhouse with
barns and land. Quiet location.
Le Busseau. Ancienne ferme en pierres de
3 chambres avec des granges et du terrain.
Environnement paisible.
REF: 66688MB79
CHARENTE-MARITIME (17) €189,000 FAI
Migron. Very well located in a quiet
hamlet, a 4 bed house in perfect condition. Large
living room and garden with
swimming pool.
Migron. Idéalement située dans un petit
hameau. Maison de 4 chambres en très bon
état avec un grand séjour, un jardin et une
piscine.
REF: 67340LMI17
CHARENTE-MARITIME (17) €174,960 FAI
Migre. Great 4 bed family home in the
centre of a village, nicely set back from
the road.
Migre. Maison de 4 chambres dans le centre
de village, située en retrait de la rue.
REF: 67037DC17
CHARENTE-MARITIME (17) €349,800 FAI
Léoville. Set in a beautiful walled garden,
a spacious, detached and renovated 3/4
bed farmhouse. Stunning views. Swimming pool.
Léoville. Située au cœur d'un magnifique
jardin clos de mur, ancienne ferme rénovée
de 3/4 chambres avec de merveilleuses
vues et une piscine.
REF: 66558ET17
info@leggett.fr +33 (0)5 53 60 84 88