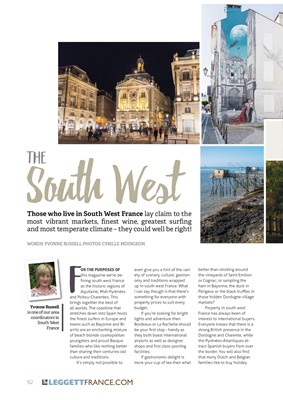 92 LEGGETTFRANCE.COM
Albi
better than strolling around
the vineyards of Saint Emilion
or Cognac; or sampling the
ham in Bayonne, the duck in
Périgeux or the black truffles in
those hidden Dordogne village
markets?
Property in south west
France has always been of
interest to international buyers.
Everyone knows that there is a
strong British presence in the
Dordogne and Charente, while
the Pyrénées-Atlantiques attract
Spanish buyers from over
the border. You will also find
that many Dutch and Belgian
families like to buy holiday
F
OR THE PURPOSES OF
this magazine we're defining south west
France
as the historic regions of
Aquitaine, Midi-Pyrénées
and Poitou-Charentes. This
brings together the best of
all worlds. The coastline that
stretches down into Spain hosts
the finest surfers in Europe and
towns such as Bayonne and Biarritz are
an enchanting mixture
of beach blonde cosmopolitan
youngsters and proud Basque
families who like nothing better
than sharing their centuries old
culture and traditions.
It's simply not possible to
even give you a hint of the variety of
scenery, culture, gastronomy and traditions
wrapped
up in south west France. What
I can say though is that there's
something for everyone with
property prices to suit every
budget.
If you're looking for bright
lights and adventure then
Bordeaux or La Rochelle should
be your first stop - handy as
they both boast international
airports as well as designer
shops and first class sporting
facilities.
If gastronomic delight is
more your cup of tea then what
Yvonne Russell
is one of our area
coordinators in
South West
France
Those who live in South West France lay claim to the
most vibrant markets, finest wine, greatest surfing
and most temperate climate - they could well be right!
WORDS: YVONNE RUSSELL PHOTOS: CYRILLE MOINGEON
South West
THE