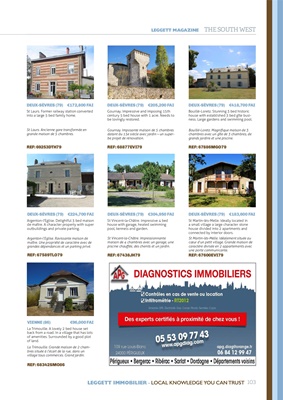 103
LEGGETT IMMOBILIER - LOCAL KNOWLEDGE YOU CAN TRUST
LEGGETT MAGAZINE THE SOUTH WEST
DEUX-SÈVRES (79) €224,700 FAI
Argenton-l'Eglise. Delightful 3 bed maison
de maître. A character property with super
outbuildings and private parking.
Argenton-l'Eglise. Ravissante maison de
maître. Une propriété de caractère avec de
grandes dépendances et un parking privé.
REF: 67589TLO79
DEUX-SÈVRES (79) €304,950 FAI
St Vincent-la-Châtre. Impressive 4 bed
house with garage, heated swimming
pool, kennels and garden.
St Vincent-la-Châtre. Impressionnante
maison de 4 chambres avec un garage, une
piscine chauffée, des chenils et un jardin.
REF: 67438JH79
DEUX-SÈVRES (79) €183,600 FAI
St Martin-lès-Melle. Ideally located in
a small village a large character stone
house divided into 2 apartments and
connected by interior doors.
St Martin-lès-Melle. Idéalement située au
cœur d'un petit village. Grande maison de
caractère divisée en 2 appartements avec
une porte communicante.
REF: 67600EVI79
DEUX-SÈVRES (79) €172,800 FAI
St Laurs. Former railway station converted
into a large 5 bed family home.
St Laurs. Ancienne gare transformée en
grande maison de 5 chambres.
REF: 69253DTH79
DEUX-SÈVRES (79) €205,200 FAI
Gournay. Impressive and imposing 15th
century 5 bed house with 1 acre. Needs to
be lovingly restored.
Gournay. Imposante maison de 5 chambres
datant du 15e siècle avec jardin - un superbe projet de rénovation.
REF: 68877EVI79
DEUX-SÈVRES (79) €418,700 FAI
Bouillé-Loretz. Stunning 3 bed historic
house with established 3 bed gîte business.
Large gardens and swimming pool.
Bouillé-Loretz. Magnifique maison de 3
chambres avec un gîte de 3 chambres, de
grands jardins et une piscine.
REF: 67886MGO79
VIENNE (86) €96,000 FAI
La Trimouille. A lovely 2 bed house set
back from a road. In a village that has lots
of amenities. Surrounded by a good plot
of land.
La Trimouille. Grande maison de 2 chambres située à l'écart
de la rue, dans un
village tous commerces. Grand jardin.
REF: 68342SMO86