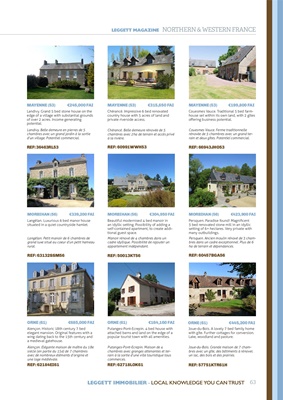 LEGGETT IMMOBILIER - LOCAL KNOWLEDGE YOU CAN TRUST 63
H
ere at Leggett, we
use south west
France to mean the
regions of Aquitaine
and Midi-Pyrénées.
We'll begin with Aquitaine, as it
covers my home département of
the Dordogne.
AQUITAINE
Average house prices across
the region are lowest in the
Dordogne (€120,000) and
Lot-et-Garonne (€130,000).
They are midway in the Landes
(€175,000) and highest in
the Pyrénées-Atlantiques
(€210,000) and Gironde
(€211,400) - although, of
course, the latter is pushed up
due to the 'Bordeaux effect'.
Prices in prime parts of the city
are way over regional averages.
It's not just the prices that
vary, though. The Dordogne
has long been popular with
overseas buyers as it combines
dramatic countryside with
plenty of sunshine. The river
itself is a huge attraction and
summer sees tourists flocking
to the towns and villages along
its banks. You hear all kinds of
different languages in towns
such as Sarlat, Montignac, Eymet and Bergerac,
particularly
on market day.
Northern Dordogne is quieter.
Throughout the département
The south west
Vibrant markets, soaring mountains, river valleys
and some of the finest wines and haute cuisine in the world.
Claire Edwards shows us what this area of France has to offer
WORDS: CLAIRE EDWARDS | PHOTOS: SHUTTERSTOCK
you will find a good stock of
decent property to browse
- from wrecks to renovate
through to houses that have
been lovingly restored and
simply need furniture adding.
The neighbouring département
of Gironde is famous for its
vineyards. Whether it's the
Medoc area north of Bordeaux
or towns such as St Emilion
to the east, this is a heavenly
destination for anyone who
has even the faintest interest
in wine. Naturally, the price of
land is high. The countryside is
spectacular and it's a fun place
to live and to bring friends, too.
The fabulous city of Bordeaux
is close to hand if you want to
Claire Edwards
is our area
coordinator in
the eastern part
of the Dordogne.
Contact her at
LEGGETT MAGAZINE LIVING IN SOUTH WEST FRANCE
Rocamadour
Parc national des
Pyrénées
Market day!