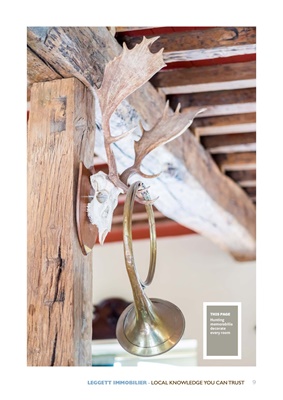 LEGGETT IMMOBILIER - LOCAL KNOWLEDGE YOU CAN TRUST 9
T
revor Leggett's Grand
Design started, as
so many do, over an
apero in a local bar:
"I was looking for a
house to buy. Someone told
me there was a wreck for sale
up the road at the right price.
By the following Monday I was
in the notaire's office signing up
for it."
However, the £5,000
bargain back in 1995 is far
removed from the warm and
welcoming home it is today.
Situated at the southernmost tip of
the Charente, the
Leggetts' home, Fontmorte, is
approached down a mile-long
road surrounded by woodlands.
Totally secluded, this very
gracious three-storeyed home
is encircled by the gardens
Trevor's wife has created.
The site's history is
chequered and long - originally
an infirmary for a local leper
colony (thankfully back in the
Middle Ages), all that remains
of this earlier colonisation are
some stone walls, now a feature
in Joanna's garden. "The house
itself was originally built as a
maison de maître viticole around
the 1830's," Trevor explains.
"Someone from Barbezieux
had planned to grow wine for
cognac here - however, phylloxera
(the wine disease which
wiped out vineyards in the
19th century) struck before the
house was ever finished. When
I bought it, the roof had literally
fallen in, the week before. Gaston, the vendor,
was desperate
to sell"
Trevor spent the next
five years - evenings - and
weekends, with no holiday -
restoring the house. He literally
winched each of the oak beams
in to support the ceiling and
floors in the house, himself.
ABOVE
The large windows
on all floors offer
stunning views from
every room
RIGHT
The fabulous gazebo
makes outdoor
living easy
LEGGETT MAGAZINE INSPIRING PEOPLE
WORDS: HELEN HOLBROOK
PHOTOS: CYRILLE MOINGEON