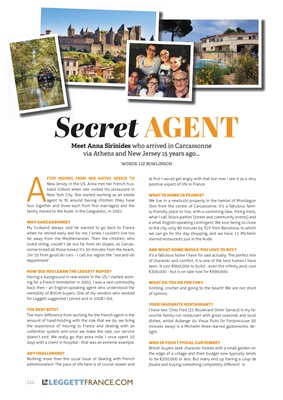 Meet Anna Sirinides who arrived in Carcassonne
via Athens and New Jersey 15 years ago...
114 LEGGETTFRANCE.COM
WORDS: LIZ ROWLINSON
A
FTER MOVING FROM HER NATIVE GREECE TO
New Jersey in the US, Anna met her French husband Gilbert
when she visited his restaurant in
New York City. She started working as an estate
agent to fit around having children (they have
four together and three each from first marriages) and the
family moved to the Aude, in the Languedoc, in 2001.
WHY CARCASSONNE?
My husband always said he wanted to go back to France
when he retired early and for me, I knew I couldn't live too
far away from the Mediterranean. Then the children, who
loved skiing, couldn't be too far from ski slopes, so Carcassonne ticked
all those boxes! It's 30 minutes from the beach,
1hr 10 from good ski runs - I call our region the "sea and ski
department".
HOW DID YOU LEARN THE LEGGETT ROPES?
Having a background in real estate in the US, I started working for
a French immobilier in 2003. I was a rare commodity
back then - an English-speaking agent who understood the
mentality of British buyers. One of my vendors who worked
for Leggett suggested I joined and in 2008 I did.
THE BEST BITS?
The main difference from working for the French agent is the
amount of hand-holding with the role that we do, we bring
the experience of moving to France and dealing with an
unfamiliar system and once we make the sale, our service
doesn't end. We really go that extra mile. I once spent 10
days with a client in hospital - that was an extreme example.
ANY CHALLENGES?
Nothing more than the usual issue of dealing with French
administration! The pace of life here is of course slower and
at first I would get angry with that but now I see it as a very
positive aspect of life in France
WHAT IS HOME IN FRANCE?
We live in a newbuild property in the hamlet of Montlegun
3km from the centre of Carcassonne. It's a fabulous family-friendly place
to live, with a swimming lake, hiking trails,
what I call 'block parties' [street and community events] and
a small English-speaking contingent. We love being so close
to the city, only 90 minutes by TGV from Barcelona, to which
we can go for the day shopping, and we have 11 Michelin
starred restaurants just in the Aude.
AND WHAT HOME WOULD YOU LOVE TO BUY?
It's a fabulous home I have for sale actually. The perfect mix
of character and comfort, it is one of the best homes I have
seen. It cost €900,000 to build - even the infinity pool cost
€300,000 - but is on sale now for €699,600.
WHAT DO YOU DO FOR FUN?
Knitting, crochet and going to the beach! We are not short
of options.
YOUR FAVOURITE RESTAURANT?
I have two. Chez Fred (31 Boulevard Omer Sarraut) is my favourite
family-run restaurant with great seasonal and local
dishes, whilst Auberge du Vieux Puits (in Fonjoncouse 30
minutes away) is a Michelin three-starred gastronomic delight.
WHO IS YOUR TYPICAL CUSTOMER?
British buyers seek character homes with a small garden on
the edge of a village and their budget now typically tends
to be €200,000 or less. But many end up having a coup de
foudre and buying something completely different!
Secret AGENT