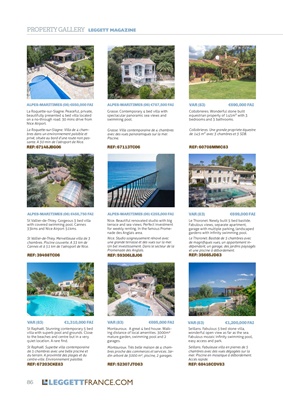 868686
PROPERTY GALLERY LEGGETT MAGAZINE
ALPES-MARITIMES (06) €456,750 FAI
St Vallier-de-Thiey. Gorgeous 3 bed villa
with covered swimming pool. Cannes
33kms and Nice Airport 51kms.
St Vallier-de-Thiey. Merveilleuse villa de 3
chambres. Piscine couverte. A 33 km de
Cannes et à 51 km de l'aéroport de Nice.
REF: 39498TC06
ALPES-MARITIMES (06) €255,000 FAI
Nice. Beautiful renovated studio with big
terrace and sea views. Perfect investment
for weekly renting. In the famous Promenade des Anglais area.
Nice. Studio soigneusement rénové avec
une grande terrasse et des vues sur la mer.
Un bel investissement. Dans le secteur de la
Promenade des Anglais.
REF: 59306LBJ06
VAR (83) €699,000 FAI
Le Thoronet. Newly built 5 bed bastide.
Fabulous views, separate apartment,
garage with multiple parking, landscaped
gardens with infinity swimming pool.
Le Thoronet. Bastide de 5 chambres avec
de magnifiques vues, un appartement indépendant, un garage,
des jardins paysagés
et une piscine à débordement.
REF: 35665JD83
VAR (83) €1,310,000 FAI
St Raphaël. Stunning contemporary 5 bed
villa with superb pool and grounds. Close
to the beaches and centre but in a very
quiet location. A rare find.
St Raphaël. Superbe villa contemporaine
de 5 chambres avec une belle piscine et
du terrain. A proximité des plages et du
centre-ville. Environnement paisible.
REF: 67203CKE83
VAR (83) €695,000 FAI
Montauroux. A great 4 bed house. Walking distance
of local amenities. 3000m²
mature garden, swimming pool and 2
garages.
Montauroux. Très belle maison de 4 chambres proche des commerces
et services. Jardin arboré de 3000 m², piscine, 2 garages.
REF: 52307JTO83
VAR (83) €1,200,000 FAI
Seillans. Fabulous 5 bed stone villa,
wonderful open view as far as the sea.
Fabulous mozaic infinity swimming pool,
easy access and park.
Seillans. Fabuleuse villa en pierres de 5
chambres avec des vues dégagées sur la
mer. Piscine en mosaïque à débordement.
Accès rapide.
REF: 68416CDV83
ALPES-MARITIMES (06) €650,000 FAI
La Roquette-sur-Siagne. Peaceful, private,
beautifully presented 4 bed villa located
on a no-through road. 30 mins drive from
Nice Airport.
La Roquette-sur-Siagne. Villa de 4 chambres dans un environnement paisible et
privé, située au bord d'une route non passante. A 30 min de l'aéroport de Nice.
REF: 67148JBG06
ALPES-MARITIMES (06) €787,500 FAI
Grasse. Contemporary 4 bed villa with
spectacular panoramic sea views and
swimming pool.
Grasse. Villa contemporaine de 4 chambres
avec des vues panoramiques sur la mer.
Piscine.
REF: 67113TC06
VAR (83) €690,000 FAI
Collobrieres. Wonderful stone built
equestrian property of 145m2 with 3
bedrooms and 3 bathrooms.
Collobrieres. Une grande propriete équestre
de 145 m2 avec 3 chambres et 3 SDB.
REF: 60708MMC83
LEGGETTFRANCE.COM