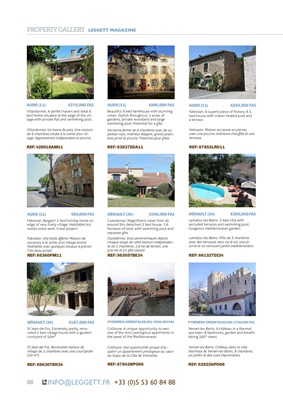 888888
PROPERTY GALLERY LEGGETT MAGAZINE
AUDE (11) €56,000 FAI
Fabrezan. Bargain! 2 bed holiday home on
edge of very lively village. Habitable but
needs some work. Great project.
Fabrezan. Une belle affaire! Maison de
vacances à la sortie d'un village animé.
Habitable avec quelques travaux à prévoir.
Très beau projet.
REF: 65360PM11
HÉRAULT (34) €399,000 FAI
Cazedarnes. Magnificent views from all
around this detached 3 bed house. 2.6
hectares of land, with swimming pool and
separate gîte.
Cazedarnes. Vues panoramiques depuis
chaque angle de cette maison indépendante de 3 chambres. 2,6 ha de terrain,
une
piscine et un gîte séparé.
REF: 56355TBE34
HÉRAULT (34) €399,000 FAI
Lamalou-les-Bains. 3 bed villa with
secluded terraces and swimming pool.
Gorgeous mediterranean garden.
Lamalou-les-Bains. Villa de 3 chambres
avec des terrasses sans vis-à-vis, une piscine et un ravissant
jardin méditerranéen.
REF: 66132TDI34
HÉRAULT (34) €167,000 FAI
St Jean-de-Fos. Extremely pretty, renovated 2 bed village
house with a garden/
courtyard of 50m2.
St Jean-de-Fos. Ravissante maison de
village de 2 chambres avec une cour/jardin
(50 m²).
REF: 69636TBR34
PYRÉNÉES-ORIENTALES (66) €636,000 FAI
Collioure. A unique opportunity to own
one of the most prestigious apartments in
the jewel of the Mediterranean.
Collioure. Une opportunité unique d'acquérir un appartement prestigieux au cœur
du Joyau de la Côte de Vermeille.
REF: 67842NPO66
PYRÉNÉES-ORIENTALES (66) €780,000 FAI
Vernet-les-Bains. A château in a thermal
spa town. 8 bedrooms, garden and breathtaking 360° views.
Vernet-les-Bains. Château dans la ville
thermale de Vernet-les-Bains, 8 chambres,
un jardin et des vues imprenables.
REF: 62923HPO66
AUDE (11) €370,000 FAI
Villardonnel. A perfect haven and ideal 6
bed home situated at the edge of the village
with private flat and swimming pool.
Villardonnel. Un havre de paix. Une maison
de 6 chambres située à la sortie d'un village. Appartement indépendant et piscine.
REF: 42901SAM11
AUDE (11) €895,000 FAI
Beautiful 9 bed farmhouse with stunning
views. Stylish throughout, 3 acres of
gardens, private woodland and large
swimming pool. Potential for a gîte.
Ancienne ferme de 9 chambres avec de superbes vues. Intérieur élégant, grand
jardin,
bois privé et piscine. Potentiel pour gîtes.
REF: 63837EDA11
AUDE (11) €283,550 FAI
Fabrezan. A superb piece of history. A 3
bed house with indoor heated pool and
a terrace.
Fabrezan. Maison ancienne en pierres
avec une piscine intérieure chauffée et une
terrasse.
REF: 67852LRO11
info@leggett.fr +33 (0)5 53 60 84 88