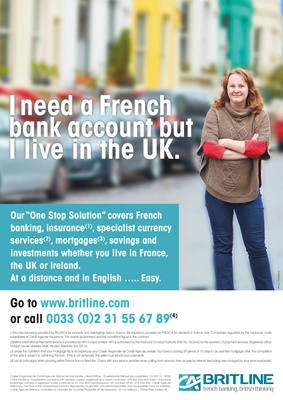 "We found our perfect hideaway in the
Dordogne with the help of Juanita Franke,
who knows the area well. Our beautiful stone
house is situated in a pretty hamlet. It's just a
short drive away from the picturesque town
of Sarlat, with its wonderful Medieval architecture
and bustling Saturday market. We love
spending time in this region of France because
the tranquility, breathtaking scenery, superb
cuisine and welcoming local people provide
the perfect antidote to our busy lives in the
UK."
LEA & OLIVER CRABTREE
"It's very
important
that you fully
understand the
implications of
all the documents you
are
asked to sign.
Our contracts
team has worked
with dozens of
notaires right
across Gascony
and they all have
different ways of
doing things."
Yvonne Russell,
area coordinator
Midi-Pyrénées
LEGGETT IMMOBILIER - LOCAL KNOWLEDGE YOU CAN TRUST 15
We can also help organise
mortgages, insurance, connection to utilities and all the other
necessities as you settle in.
COMING TO VIEW
We know your time is precious.
If you're coming to France to
look for a house, you'll find
that working with Leggett
really makes a difference. Once
you've decided what you want,
our in-house call centre team
can arrange a full itinerary with
our local agents - and even
organise accommodation for
your stay.
MAKING AN OFFER
When you find your house,
remember that the property
could well be listed with several
agents and there may be
other interested parties. Don't
lose it! You must make an offer.
Once your offer is accepted,
the agent or notaire will draw
up the initial sales contract -
known as the Compromis de
Vente. After signing this, you
have a seven-day cooling off
period. The sale then becomes
a binding contract, so make
sure you fully understand the
contract details: what exactly is
included in the offer; the results
of the diagnostic tests; all the
costs incurred; any mortgage
requirements. Your agent and
our in-house Leggett legal team
will be able to explain everything to you.
At this stage, you must
normally make a 10% deposit. Following
this, the notaire
- who acts for both parties
- will check the records and
documentation regarding the
property. Two to four months
are generally necessary. It
may move more swiftly if both
parties agree, and the notaire
can conduct documentation
searches without delay.
MORTGAGES
Our advice is to begin the
mortgage process before you
start house hunting so that you
know your financial position.
Our team works with brokers
and banks and can advise you.
With mortgage rates still set
at historically low levels, it can
prove very attractive to buy in
France. One word of caution,
however: if mortgage rates rise
in the future, you'll need to
service higher repayments.
COMPLETION
The completion date shown
in the Compromis de Vente is
only a target date to allow you
to plan for removals and funds
transfers. This date must be
reconfirmed as completion
draws nearer. The actual completion date is when both parties
attend the notaire's
office
to sign the Acte Authentique -
although you can usually nominate a proxy
to sign on your
behalf by power of attorney.
Once this is completed you will
be given the keys. The house is
officially yours.
TRANSFERRING FUNDS
The purchaser must ensure
that the balance of the money,
including the professional fees,
reaches the notaire's account in
time for clearance before signature.
You should allow five days
for this. We recommend using
a currency exchange company,
as variable rates can have a big
effect on the actual sum required.
Leggett has established
relationships with reputable
currency companies.
TAXATION
You must pay two annual taxes.
The Taxe d'Habitation is the
residence fee imposed on the
occupier of a property, while
the Taxe Foncière is the
property ownership tax. Your
agent can explain these and
tell you the annual cost of each
for the house you want to buy.
If you live here permanently,
you will also become subject to
French taxation. Take specialist
advice for this.
MOVING TIME
Leave it to the professionals.
Speak to more than one
company and get competitive
quotes including packing and
unpacking. Once you arrive, all
that remains is to welcome you
to your new French life.
Bienvenue en France!
For more information on buying a
house in France contact our call centre
team at info@leggett.fr or visit our
website www.leggettfrance.com
{ {