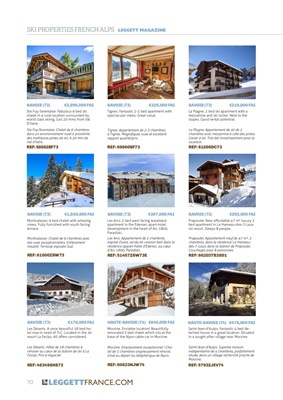 70
PROPERTY GALLERY LEGGETT MAGAZINE
TARN-ET-GARONNE €399,995 FAI
Spacious family home with holiday business
in stunning location near Castelnau
Montratier with pool & tennis court.
Maison spacieuse avec gîtes dans un environnement magnifique près de Castelnau
Montratier avec piscine et court de tennis.
REF: 42043NK82
TARN-ET-GARONNE €455,800 FAI
Fantastic property with equestrian
facilities, lovely house with 4 bedrooms, a
secluded living area and a swimming pool.
Propriété avec installations équestres
comprenant une maison de 4 chambres, un
espace habitable isolé et une piscine.
REF: 41254LG82
LOT €397,500 FAI
Attractive and well presented 4 bed, 3
bath property with great views and within
walking distance of a popular market
village in the Lot
Superbe propriété avec 4 chambres, 3 SDB
et de belles vues, près d'un ravissant village
dans le Lot.
REF: 41774PH46
DORDOGNE €230,000 FAI
Charming entirely refurbished 3 bedroom
stone house with studio and workshop.
Private environment in 3 hectares of
woodland.
Charmante maison rénovée avec trois
chambres, annexe et atelier, bel environnement privé sur 3 hectares
de terrain boisé.
REF: 34833AI24
DORDOGNE €283,550 FAI
4 bed, 2 bathroom house with pool,
garage with potential to convert to a gîte.
Great views. 4 km from pretty market
town.
Maison de 4 chambres avec piscine, garage
et la possibilité de transformer en gîte.
Magnifique vues. A seulement 4 km d'une
jolie ville.
REF: 27900HD24
LOT-ET-GARONNE €275,000 FAI
Two 2 bedroomed cottages and a pool in
glorious countryside not far from Duras.
Gorgeous gardens and tranquillity.
Deux maisons, chacune avec deux chambres et une piscine dans la belle
campagne,
près de Duras. Jardins et grande tranquillité.
REF: 42036AW47
DORDOGNE €299, 000 FAI
Beautifully restored 19th century stone
house with 4 bedrooms, large barn and
swimming pool for sale near to Corgnac in
the Périgord Vert.
Magnifique maison en pierre de quatre
chambres avec une grange et piscine à
vendre près de Corgnac en Périgord Vert.
REF: 16883CE24
PYRÉNÉES -ATLANTIQUES €380,000 FAI
Lovely home and three-star gite in gorgeous
location. 3.5 acres of land. Loaded
with space and with potential for more.
Views over the countryside.
Belle maison et son gîte 3 étoiles dans
un cadre magnifique sur 3,5 hectares de
terrain. Beaucoup d'espace et vues.
REF: 36945JC64
DORDOGNE €159,500 FAI
A perfect holiday getaway. 2 bed stone
cottage with central heating and barn
with conversion possibilities. Half an acre
and a share of a lake at the bottom of the
garden.
Charmante maison en pierres restaurée
de deux chambres avec chauffage central.
Grange. Jardin. Lac partagé avec 6 voisins.
REF: 37092AM24