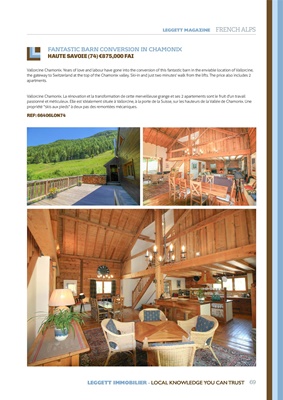 LEGGETT IMMOBILIER - LOCAL KNOWLEDGE YOU CAN TRUST 69
GERS €210,000 FAI
Monlezun. Lovely renovated stone house
with attractive secluded gardens, within
easy reach of Marciac, Tillac and golf
course.
Monlezun. Jolie maison rénovée en pierre
avec jardin retiré, à proximité de Marciac,
Tillac et d'un parcours de golf.
REF: 40046CAT32
HAUTES-PYRÉNÉES €390,000 FAI
Labatut Riviere. Beautifully renovated
maison de maître with 4 bedrooms, 3
bathrooms, potential to increase living
space, garden.
Labatut Riviere. Belle maison de maître
rénovée - 4 chambres, 3 sdb - grange
énorme. Grand jardin.
REF: 41301CAT65
PYRÉNÉES-ATLANTIQUES €212,000 FAI
Monein. Exquisite renovated watermill in
beautiful secluded setting with private
lake.
Monein. Impressionnant moulin rénové
dans un cadre magnifique avec lac privé.
REF: 37117JC64
PYRÉNÉES-ATLANTIQUES €169,900 FAI
Large, traditional Bearnaise home with
outbuildings and almost 1 acre of land
close to popular town of Navarrenx.
Grande maison béarnaise avec
dépendances et 3500m² de terrain proche
de la ville populaire de Navarrenx.
REF: 36901JC64
GERS €224,700 FAI
Restored 3 bedroom Gascon cottage with
large barn and 1 ha (2acres) of land in
quiet lane near Aignan, Gers.
Maison de campagne rénovée avec 3 chambres, grande
grange et 1ha de terrain dans
un environnement calme près d'Aignan,
Gers.
REF: 35084GJ32
GERS €499,800 FAI
Vic Fezensac. Beautifully restored 4 bedroom
country house with pool, outbuildings and 6 acres
of land in Gascony.
Vic Fezensac. Coup de coeur! Maison de
campagne restaurée avec 4 chambres,
piscine, dépendances et 2 ha de terrain en
Gascogne.
REF: 36859GJ32
PYRÉNÉES-ATLANTIQUES €495,000 FAI
Autevielle. An exceptionally well renovated 18th century
stone barn and separate
gîte with over 4 hectares of land.
Autevielle. Une grange en pierres du 18ème
siècle exceptionnellement bien rénovée et
gîte indépendant avec plus de 4 hectares
de terres.
REF: 34484MM64
PYRÉNÉES-ATLANTIQUES €320,000 FAI
Lahontan. A large 'villa style' family home
with many rooms and much potential, set
in 2.84 hectares of land.
Maison de style « villa » située dans un
environnement tranquille, à la campagne,
près de Salies les Bains. Le grand espace
permettrait l'aménagement de gîtes.
REF: 33520MM64
HAUTE-GARONNE €350,000 FAI
Beautiful villa, 5 bedrooms, view of Boulogne-sur-Gesse
and mountains. Toulouse
1h. This villa was built in 2006 and is
ready to move into.
Magnifique villa très lumineuse, construite
en 2006, 5 chambres, vue sur Boulognesur-Gesse et montagnes,
1h de Toulouse.
REF: 41340VDE31
LEGGETT MAGAZINE SOUTH WEST FRANCE